In this guide, we will discuss some of the best IPTV players and live TV services that let you cast IPTV on Chromecast.
Those who own a Chromecast already know how versatile Chromecast is. Ever since Google made its Cast SDK open-source to all the major operating systems, developers of various streaming services have integrated it into their apps and webpages, making life easier for the users.
All you have to do is tap the Cast button in the media player or the streaming app to send the video feed over to the Chromecast, which will then playback the stream on the connected television.
Similarly, it's possible to watch IPTV on Chromecast, as many IPTV players and over-the-top live TV streaming services allow users to cast content on their Chromecast devices. However, only a few of them work as intended.
List of IPTV Players to Cast IPTV on Chromecast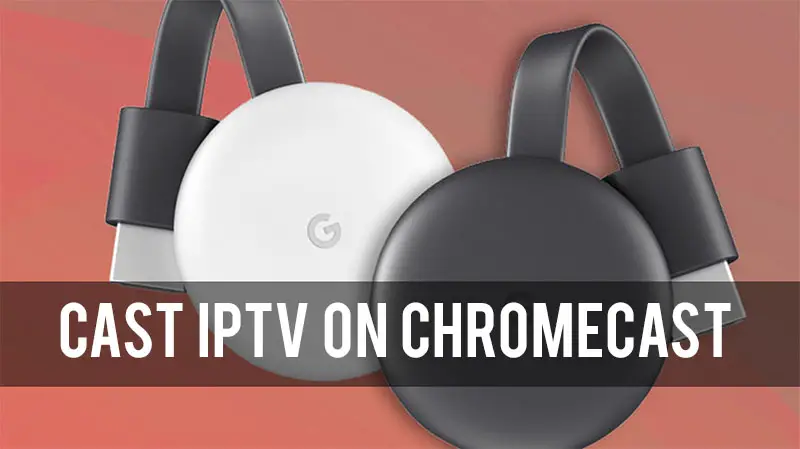 Below is a list of IPTV players that support casting IPTV channels over the Chromecast streaming protocol. We also have talked about the IPTV players individually so that you can learn more about the one you prefer to use.
GSE Smart IPTV
Let's begin with the strongest contender in this suite. GSE Smart IPTV is one of the few IPTV players that natively support Chromecast, and provides the option to change stream quality on the fly, assuming that you are rocking a current-gen Chromecast device.
Since most of the media processing is handled by your device, you won't have to worry about stream format compatibility on Chromecast. The IPTV player supports HTTP, RTSP, and HLS streaming protocols, which are used by most third-party IPTV providers.
You can load up an M3U or M3U8 link for the playlist, as well as XMLTV or JTV links for the TV guide or EPG.
While you are casting IPTV over Chromecast with GSE Smart IPTV, you can also toggle on subtitles for select streams from the playback controls option on your mobile device. It will work like a remote during your Chromecast session, so you can even change channels from the playlist.
GSE Smart IPTV is available for Android, iOS, and macOS devices. However, only the Android and iOS version of the app allows you to use Chromecast.
Perfect Cast IPTV
While Niklabs' Perfect Player IPTV app doesn't have Chromecast support, its remote companion tool Perfect Cast IPTV does let users cast IPTV over Chromecast streaming protocol. You can configure your playlist by importing an M3U URL. The same goes for EPG as well.
While the standalone Chromecast device doesn't have support for .ts container streams, you can playback select VOD streams that use regular media formats.
However, if you have an Android TV with Chromecast built-in, then you can install Perfect Player IPTV on it, then use the Perfect Cast IPTV app as a remote for the main app. Then, you can stream any IPTV channels you want on your TV via Chromecast.
VLC Media Player
If you are looking for a simple IPTV setup, then VLC is quite suitable for your needs. Alongside support for local media playback, it does also let users load up M3U playlists and play streams over the network.
Fortunately, VLC natively supports Chromecast, and you can playback both live and on-demand IPTV streams without running into incompatibility issues.
In this Chromecast setup, whether it's your Windows, Android, or iOS device, VLC uses it as the media decoder and sends the processed media over to the Chromecast.
While are you casting IPTV channels on Chromecast, you can use VLC on your device to change channels, choose audio track, and toggle on subtitles when needed. VLC doesn't offer EPG functionality, but it is the easiest media player for setting up IPTV without any efforts.
List of Live TV Services with Chromecast Support
Trusted IPTV providers that offer linear television channels and on-demand content often have their dedicated streaming apps for popular streaming platforms. These apps do come with Chromecast support so that you can cast IPTV on Chromecast device from the apps.
YouTube TV
Most of Google's apps and services natively support casting, and YouTube TV is no exception. Once you sign up for a YouTube TV subscription from tv.youtube.com and log in to the YouTube TV mobile app or website, the cast icon should show up every time you start streaming a channel or on-demand content.
Since YouTube TV also has DVR functionality, the recordings you have saved can also be cast on a Chromecast device. Based on your network connection, the channel stream quality will automatically adapt to maintain a smooth streaming experience. Note that YouTube TV's content is capped to 720p and 1080p only.
Hulu
Hulu officially supports a wide variety of Chromecast devices. Alongside its on-demand content, you also can cast the premium channels and catch-ups included in the Hulu + Live TV plan.
Similar to YouTube TV, clicking the cast icon on the mobile app or the web player will let you cast the channel you would like to watch on your TV via Chromecast. You will need to purchase a Hulu + Live TV subscription from hulu.com in order to get access to channels and VOD content first. Again, the content that you save in your Hulu DVR library can be streamed over Chromecast without any issues.
Additional Live TV Providers
Here's a shortlist of online, subscription-based live TV providers that offer casting functionality over Chromecast:
AT&T TV NOW
fuboTV
Sling
TV Everywhere apps
While there are no issues with casting from an Android/iOS device, we recommend PC users to use Google Chrome for Chromecasting from the web version of live TV services, as it natively integrates the cast functionality.
Similar Articles
Wrapping Up
In this guide, we have listed a few IPTV players and live TV services that offer IPTV casting on Chromecast. Unless you are using a 1st-gen Chromecast device, most of these apps will be able to cast content without running into hardware-related issues. On smart TVs with Chromecast built-in, your IPTV casting experience may vary depending on manufacturer to manufacturer.