DVI or Digital Visual Interface predates HDMI. First introduced almost 21 years ago, DVI is still found on televisions, video projectors, and DVD players. If you have an older PC or laptop, chances are it also has a DVI video out port.
Now you probably have tried connecting your older media device to the TV over DVI, and it brought you here because the audio doesn't work. Does DVI carry sound? This exact question is raised by many people. To clear your confusion regarding DVI's audio transmission capabilities, we spent a considerable amount of time researching and compiling this informational guide. Make sure to read through it until the end for everything you need to know on the following subject.
Does DVI Carry Sound/Audio?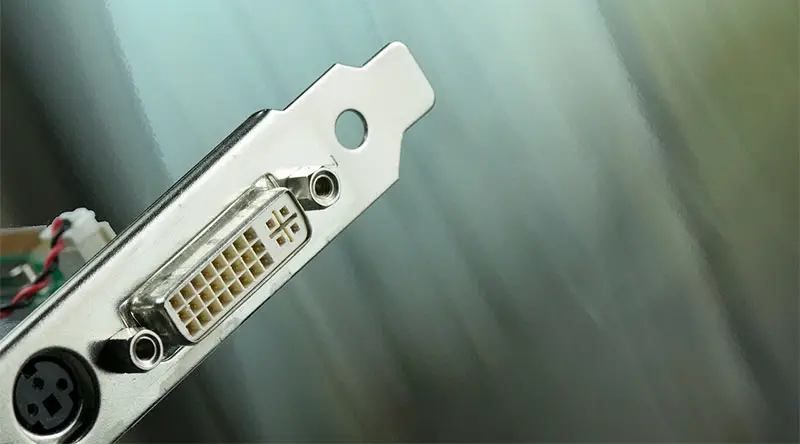 The answer is – No, DVI doesn't natively support the transport of packets used for digital audio. Despite its limitations, both NVIDIA and Radeon, two of the most prominent graphics card manufacturers in the world, found a way to allow video and audio signals to be carried over DVI. We will discuss more on that later.
Some DVD players and projectors also included support for audio transmissions over DVI, but the compatibility factor is all over the place because of proprietary protocols. If you are dealing with different types of DVI ports, the next section will help you understand.
Ways to Get Audio Working over DVI
Before we begin, you need to first identify the DVI connector on your device. Usually, there are three types of DVI ports, which are DVI-I, DVI-D, and DVI-A. Bear in mind that they are not inter-compatible, unlike the HDMI revisions.
DVI-A only supports analog signals, whereas DVI-D can only carry digital signals. DVI-I is capable of transmitting both digital and analog signals, thanks to the extra pins on the connector. For DVI-A and DVI-I ports, it's mandatory to use an active DVI to HDMI adapter.
On the other hand, DVI-D is the most common video interface found on older PC, laptops, game consoles, and projectors. Similar to HDMI, DVI-D only sends out digital signals. Additionally, HDMI is backward-compatible with DVI-D, meaning you should be able to get digital audio output over a DVI port. It doesn't require any sort of signal conversion.
Once you figure out which type of DVI port your media device uses, check out the following workarounds below to get audio working over DVI.
1. Use a Passive DVI-D to HDMI Cable
If your device includes a DVI-D port, all you need is DVI to HDMI cable. You won't have to meddle with additional converters that often require to be connected to an external power source. When you connect the source device (DVI-D) to the TV (HDMI), it will show up as an HDMI input source instead.
One major drawback is that it might not work across all devices. However, non-standard extensions were implemented on DVI-D sources with the introduction of NVIDIA GTX 200-series and ATI 3000-series. Hence, digital audio should work over DVI to HDMI on almost every graphics card released after 2010.
2. Use an Active DVI to HDMI Adapter or Converter
If your media device doesn't have a DVI-D port but comes with a DVI-I port instead, you will need to use a DVI-I to HDMI converter. Even though DVI-I can carry digital signals alongside analog ones, it's the pin layout that asks for an active adapter or converter.
The main downside of using such a converter is the requirement for an external power source. Cheaper converters can also cause degradation in video output quality.
3. Use External Audio Cables with DVI
If your TV is old enough not to have an HDMI port but only a DVI port, you have no other option but to rely on dedicated audio interfaces to get audio output.
Once you connect your media device to the television with a DVI cable, you can use a separate AUX cable to get audio transmitted from the device to the TV. A 3.5mm to 2-Male RCA adapter cable should also work. If the audio doesn't work out of the box, either go to the TV settings to change the output or check if the cables are plugged in firmly.
See – Connect Soundbar to Sky Q Box
Verdict
A DVI-D source can drive an HDMI display as long as the source device is capable of transporting digital audio packets over the legacy interface. If that isn't the case, you will need an active DVI to HDMI adapter to get the audio working.
As we mentioned before, PCs and laptops with almost any graphics card released in 2010 or later support HDMI AV signal passthrough over DVI-D. Support on Blu-ray players and video projectors vary based on their DVI specifications.
Even though it's possible to get audio over DVI-D to HDMI, features like HDMI CEC (Consumer Electronics Control), ARC (Audio Return Channel), or xvYCC (extended-gamut YCbCr) color space will be out of reach. You may also encounter a blank screen when playing back HDCP-protected content from the media device to the television.