ANC or active noise cancelling headphones electronically cancel out unwanted background and surrounding noises by producing an inverted sound frequency of the same amplitude in your ears. The technology works best in places where there's a prolonged, unpleasant noise to the ear, such as in a helicopter.
Put simply, noise cancelling headphones can help you concentrate on what's playing in otherwise generally noisy conditions. Whether you are trying to get some work done at a public coffee shop or having a dreaded commute on a bus or train, headphones with ANC can help you keep focused or relaxed.
Although high-end headphones had active noise cancellation for years now, it has finally started to show up on headphones that cost merely a fraction of those premium models from Bose and Sony. They get you surprisingly decent noise cancelling performance, albeit at a significantly lower price.
The following guide showcases our picks for the best noise cancelling headphones under £100 to buy. We can guarantee that at least one of them will meet your expectations, which is why we have also included buy links to every model.
List of the Best Noise Cancelling Headphones Under £100
The Best Noise Cancelling Headphones Under £100 Reviews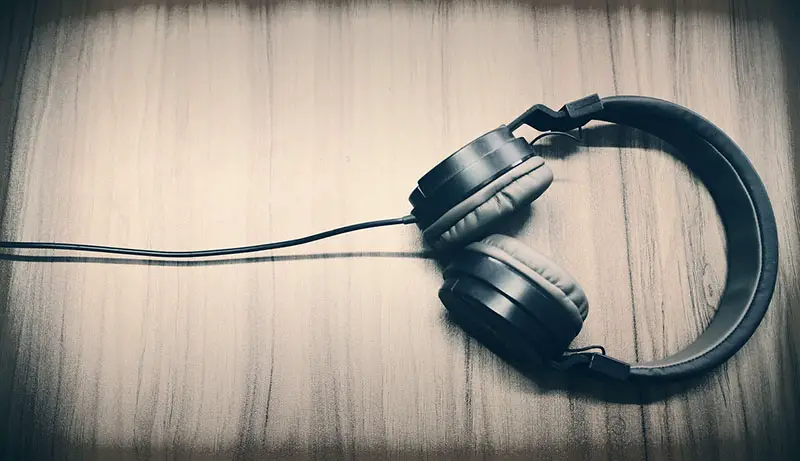 Below is our roundup of some of the best noise cancelling headphones under 100 pounds. Having a good ANC implementation isn't everything, so we have only included headphones that sound decent, endure hours of usage, and are comfortable to wear.
1. Soundcore Life Q30
Type: Over-the-ear
Connectivity: Bluetooth 5.0, NFC
Battery Life: Up to 40 hours (w/ ANC enabled)
Charging Port: USB-C
Weight: 260 grams
Soundcore by Anker is currently the leading brand, especially in the budget segment of wireless headphones and earbuds. Unsurprisingly, its Life Q30 headphones are the most compelling choice on this list.
The ANC on these headphones does an excellent job of blocking the noise of public chatter and running engines. The companion mobile app lets you select between three customizable ANC modes, blocking out different types of noise.
For example, Outdoor Mode blocks wind and traffic sounds, whereas Indoor Mode reduces ambient chatter and fan noise. Transport Mode, on the other hand, blocks out the continuous hum of bus and plane engines. The Soundcore app also offers a graphical EQ and presets to help you achieve an ideal listening experience.
The Life Q30s offer a well-balanced sound signature out of the box, though with slightly thumpy bass that most people usually enjoy. You don't get the same level of richness as some of the high-end headphones, but they also are less than a quarter of the price.
Comfort and build quality-wise, it's difficult to one-up the Life Q30 headphones at this price range. Furthermore, they offer a continuous battery life of over 40 hours with ANC enabled, which is very impressive. Charging takes less than two hours over the USB-C port.
The few drawbacks of the Life Q30 include the lack of an official IP rating, poor sound leakage at higher volumes, and the built-in mic's mediocre noise removal quality during voice calls.
Aside from these minor inconveniences, the Soundcore Life Q30s manage to deliver an overall solid performance. They also come in a premium hard case, so you don't have to worry about accidental drops or water damage.
| | |
| --- | --- |
| Pros | Cons |
| Impressive noise cancellation performance | The "Transparency" mode is subpar |
| They can be used in wired and wireless mode | Leaks sound at higher volumes |
| Exceptional battery life | The built-in microphone could be better |
If you are looking for LDAC support, the newly released Soundcore Life Q35 headphones are a great alternative. However, whether that extra £50 is worth the upgrade boils down to your preferences.
2. Soundcore Life Q20
Type: Over-the-ear
Connectivity: Bluetooth 5.0
Battery Life: Up to 40 hours (w/ ANC enabled)
Charging Port: MicroUSB
Weight: 260 grams
If you are on a strict budget, the previous generation of the Soundcore Life Q30 headphones is a decent choice. In fact, the Life Q20s are the best noise cancelling headphones in the £50 price range.
The four built-in microphones, combined with Soundcore's ANC algorithm, effectively manage to block out ambient chatter, the high-pitched hum of a fan or air-conditioning unit, and other background noises. However, the Q20s struggle to suppress the low rumble of bus or plane engines, unlike its more expensive successor.
These headphones are also incompatible with the Soundcore Android/iOS app, meaning you don't get any fancy ANC customization options or a graphic EQ to play with. With that said, there's a physical bass boost button if you prefer that extra rumble.
When it comes to audio quality, the Life Q20s offer an exhilarating sound profile that's more tuned for EDM and hip-hop tracks. The balanced mid-range results in bright vocals and instruments, while the over-emphasis on the lows gives a plump bass response. Fans of pop and rock music should also find these headphones enjoyable.
The Q20s provide a very comfortable fit, all thanks to the puffy ear cups and lightweight footprint. Battery life is also good, lasting up to 40 hours with ANC turned on. However, it uses an outdated MicroUSB port for charging, which means you will have to carry an extra cable on your travels.
Overall, the Soundcore Life Q20 headphones get you more than what you pay for them. The comfortable fit, good noise cancelling, and long-lasting battery life is seriously tough to beat, given how affordable they are.
| | |
| --- | --- |
| Pros | Cons |
| Good ANC performance for the price | Struggles to block engine/lawnmower noises |
| Lightweight and comfortable | MicroUSB charging port |
| Excellent endurance | No app support |
Anker offers a refreshed version of these headphones known as the Soundcore Life Q20+ with a USB-C charging port and app support. It usually goes for £20 more than the original, but you might be able to find it at a lower price during sales.
3. Edifier W820NB
Type: Over-the-ear
Connectivity: Bluetooth 5.0
Battery Life: Up to 29 hours (w/ ANC enabled)
Charging Port: USB-C
Weight: 220 grams
Edifier is a prestigious name in the audiophile community. The brand is especially renowned for its high-wattage speakers, but they also make wireless earbuds and headphones. The W820NB is one of Edifier's many noise cancelling pairs of cans. The affordable price tag makes them a worthy contender on this list.
The ANC on the Edifier W820NB works surprisingly well. It manages to completely block off low hums from PC fans and AC units, as well as background speech. You get the perfect opportunity to work in peace in a busy household or a chatty office environment. According to Edifier, the W820NB is capable of reducing noise by up to 38dB.
These Edifier headphones also have an ambient mode, which lets outside sound in. It allows you to stay aware of your surroundings without taking the headphones off. The W820NB even has a Game Mode, bringing down the latency over Bluetooth to as low as 80ms.
You can switch between the different modes by pressing the single multifunction button, or from the Edifier Connect app. Sadly, the app doesn't offer any EQ controls.
The large dynamic diaphragm drivers powering the W820NB produce a warm, well-balanced sound with slightly booming bass. The mids are full-bodied and don't sound muddy despite the elevated bass.
The treble accuracy is also pretty decent, so instruments generally don't sound piercing. Granted, these sub-£100 headphones don't offer the same level of clarity as higher-end models, but they also cost nearly four times less.
The Edifier W820NB makes use of a high-quality leather headband and memory foam earpads, meaning you can listen to your favourite music or podcasts for longer periods without any discomfort. While they feel very lightweight, the build quality is robust.
They also deliver exceptional battery life, with up to 49 hours of playback time on a single charge. With ANC enabled, however, it drops down to 30 hours. It only takes an hour and a half to fully charge the cans via the Type-C USB port.
The only area where the W820NB falls short is for connectivity options. They neither support pairing over NFC nor can be used in wired mode. Fortunately, the headphones support both SBC and AAC codecs over Bluetooth 5.0.
Aside from these oddities, the Edifier W820NBs offer great value. It's either good ANC performance or mediocre sound quality on budget ear cans – but these headphones hit a striking balance between both.
| | |
| --- | --- |
| Pros | Cons |
| Noise cancelling is surprisingly effective | The app lacks proper EQ controls |
| Balanced sound profile | No fancy NFC pairing |
| Low latency with Game Mode enabled | The wired mode only works with PCs over USB-C |
4. Panasonic RP-HTX90NE
Type: Over-the-ear
Connectivity: Bluetooth 4.2
Battery Life: Up to 24 hours
Charging Port: MicroUSB
Weight: 208 grams
If you want not only active noise cancellation but also a comfortable fit and premium build quality, the Panasonic RP-HTX90NE wireless headphones are worth looking for.
The RP-HTX90NEs are relatively lightweight headphones, so they sit comfortably on the head. The large, oval-shaped ear shells imitate the look of retro ear cans. The cushioned ear cups are big enough to fit around most people's ears, offering good passive noise isolation. However, the poor breathability will force you to take off these headphones once in a while.
Activating ANC on the HTX90NE is as straightforward as pressing a physical button. When enabled, they block off monotonous, low-frequency hums fairly well, but fail to effectively suppress street noise and other complex noise sources. Despite that, these headphones should be good enough for noisy home and office environments.
However, the ANC also has a slight impact on the soundstage, making bass-heavy music sound duller than usual. The mids manage to stay balanced regardless of the mode, and the highs don't have any harshness in them. For the price, the 40mm neodymium drivers deliver a pleasant audio performance nonetheless.
The HTX90NE's battery life is rated to provide 24 hours of continuous usage, though it's reduced to around 14 hours with ANC enabled. The headphones use a dated MicroUSB charging port, taking almost four hours to go from 0 to 100% charge. That said, a 15-minute charge gives the headphones almost two and a half hours of playtime. Note that you can also use the pair in wired mode.
The Panasonic RP-HTX90NE headphones provide decent noise cancelling, though it's certainly not the best performer in this lineup. However, if you are after a classic design and a good comfort level, this model is an excellent pick.
| | |
| --- | --- |
| Pros | Cons |
| Timeless design, comfortable fit | No app support |
| Function buttons are conveniently placed | Noise cancellation affects the bass response |
| Usable in both wired and wireless mode | Average battery life with ANC on |
5. Mixcder E9 Wireless
Sale
Mixcder E9 Wireless Active Noise Cancelling Headphones Over ear Foldable Headset (Aptx HD, Type-C Port, Dual 40mm Drivers, Bluetooth 5.0, Comfortable Protein Earpads, 60 Hours Battery Life), Black
Enhanced ANC Technology - New version adopting enhanced Mixcder self-scheme noise cancelling chip, filters out the low-frequency sound by up to 97%, a noticeable difference compared to regular earphones, and there is no loss of audio quality with the noise cancellation on, helping you remain concentrated on whatever you do in a quiet-ish environment without any interruption.
Superior Sound Quality with Aptx HD- Integrated HD noise-canceling processor and CSR Bluetooth chip realize the best-in-class signal-to-noise ratio and deliver exceptional sound quality. Powerful dual 40mm large-aperture drivers and upgraded 95dB reproduce a balanced midbass and bright treble, enjoying your loved music with rich details.
Quick Charge Function - The MSC (Mixcder Super Charging) tech allows you to get 2 hours of extra continuous playtime with only 5 mitutes charge. Just plug in for charging when you get up, and get sufficient battery life when leaving.
Type: Over-the-ear
Connectivity: Bluetooth 5.0
Battery Life: Up to 35 hours
Charging Port: MicroUSB
Weight: 254 grams
The Mixcder E9 Wireless caught our attention with its stellar price tag and overwhelmingly positive ratings on Amazon, so we decided to include it on this list.
The Mixcder E9 looks pretty sleek due to its metallic cup design. The rather large cups and lightweight footprint makes these headphones comfortable for long listening sessions. Mixcder has clearly taken some inspiration from the Bose QC35 II for the padded headband design.
However, some may find the pair a bit on the bulky side, while others may find them plasticky. The fake leather material on the ear cups also doesn't say much for the build quality.
In terms of noise cancelling, the Mixcder E9s offer solid performance. Whether it's the low rumbling of bus or train engines, or the noise coming from a fan or air-conditioning system, the headphones do a decent job against such background noises. They also are effective at blocking off ambient chatter in both indoor and outdoor settings.
Unlike the Soundcore Life Q30s, the E9s deliver much better bass accuracy, which audiophiles generally prefer. They offer just the right amount of boom and rumble without making bass-intense music sound muddy or overwhelming. It also has a more neutral sound signature out of the box, so you can expect good audio reproduction the moment you put on the headphones.
Unfortunately, there is no companion app with EQ or customization options on Android or iOS, meaning you can't tweak the sound profile to your preference. Luckily, you still get physical buttons to adjust the volume and playback, as well as a dedicated ANC switch.
Mixcder mentions a 35-hour battery life for the E9 headphones, but it's close to 17 hours with ANC on. It takes about three hours to charge fully, but Mixcder's "Super Charging" tech gives you two hours of playtime with only five minutes of charge.
All in all, the Mixcder E9 headphones are quite satisfactory for commuting and productivity sessions. Sure they don't have the app-based customization options as some of the noise cancelling headphones above, but the well-tuned vanilla sound profile makes them an appealing choice nonetheless.
| | |
| --- | --- |
| Pros | Cons |
| Foldable and rotatable design | Plasticky build |
| Consistent sound quality | No app support |
| Decent noise isolation | Average battery life ANC on, slower charging |
Best Noise Cancelling headphones under £100: Notable Mentions
While the following noise cancelling headphones didn't find their place on the above list, they still offer a good mix of quality and performance. Here are the honourable mentions for the best ANC headphones under £100, starting with:
1. JLab Audio Studio
JLab Studio Noise Cancelling Headphones, Wireless Headphones with EQ3 Custom Sound and 34+ Hour Bluetooth 5 Playtime, 28+ Hour Active Noise Cancelling Playtime, Black
LONG PLAYTIME WITH BLUETOOTH 5: A long 34+ hour playtime will keep you GOing all day. When using ANC to tune out noise around you, you'll get 28+ hours of Bluetooth playtime. Connect from up to 30 feet away with no strings attached. An external AUX cord for endless playtime when you are running low on charge or out and about without a charger.
ACTIVE NOISE CANCELLATION: Turn off distractions, by turning on ANC and eliminating those unwanted noises such as a plane engine, chatty passengers, or just everyday traffic. Two microphones collect outside noises and neutralise them while a third targets your voice for calls.
STUDIO COMFORT: Sitting softly on your ears with the ultra-plush Faux Leather and Cloud Foam cushions. Comfort all day long with this cool, sleek, headphone, with adjustable hinges to fit your head, guaranteed to provide the studio feel for any travel, workout, or commute.
On-ear design, all-day comfort
Plushy ear cups, smooth-sliding headband adjustments
Superb battery life of up to 28 hours w/ ANC on
Not the best for making voice calls
2. Sony WH-CH710N
Sale
Durable plastic construction, lightweight and comfortable
Up to 30 hours of continuous playtime, charges over USB-C
Neutral sound profile with a slight hint of bass
No LDAC / fancy codec support
3. Philips PH805BK
Philips Wireless Headphones TAPH805BK/00 Bluetooth Headphones (Bluetooth, Active Noise Cancelling, 30 Hours Battery Life, Hi-Res Audio, Microphone, Google Assistant, Quick Charging Feature) Black
This wireless headphone offers you up to 25 hours of running time with Active Noise Cancelling (ANC) activated. Deactivate the ANC to enjoy a full 30 hours of music with these Bluetooth headphone.
Thanks to the quick charging feature of the Philips headphones over ear, 5 minutes of charging will give you 2 hours of battery life. 15 minutes of charging will end up to 6 hours of battery life.
Included in delivery: Philips Headphones Wireless PH805BK00 On Ear Headphones (Bluetooth, ANC, 30 Hours Battery Life, Hi-Res Audio, Google Assistant, Quick Charging Feature) Black; USB Cable
Premium design and build quality
Good battery life (up to 30 hours w/ ANC off)
Balanced sound profile for laid-back listeners
Middling active noise cancellation performance
Related
Conclusion
These are our recommendations for the best noise cancelling headphones under £100 in the UK. As you may have already noticed, the market for sub- £100 ANC pairs is bigger than expected. However, we have tried our best to bring down the number to just five so that you can easily make a valid and worthwhile purchase.
Though if you want our ultimate verdict on the best overall noise cancelling headphones, the Soundcore Life Q30 would be our first choice for all the reasons we already have discussed above.
It takes plenty of research and time to compile a buying guide like this. Hence, if you find this helpful, perhaps share this post with your friends and family in need. We are also here to answer your queries in the comments section!