The compact size of soundbars makes them surprisingly easy to set up under giant TVs in a typical living room. However, the smaller size and lack of directionality in a 2.1 soundbar make them fall behind other stereo sound systems.
If you plan to buy a stereo soundbar or already own one, you may wonder whether it's possible to pair the soundbar with other directional speakers to improve the surround sound experience. Fortunately, you aren't the only one with the same burning question, which is why we have prepared this guide to tell you more about integrating regular speakers into a soundbar.
Can You Use a Soundbar with Other Speakers?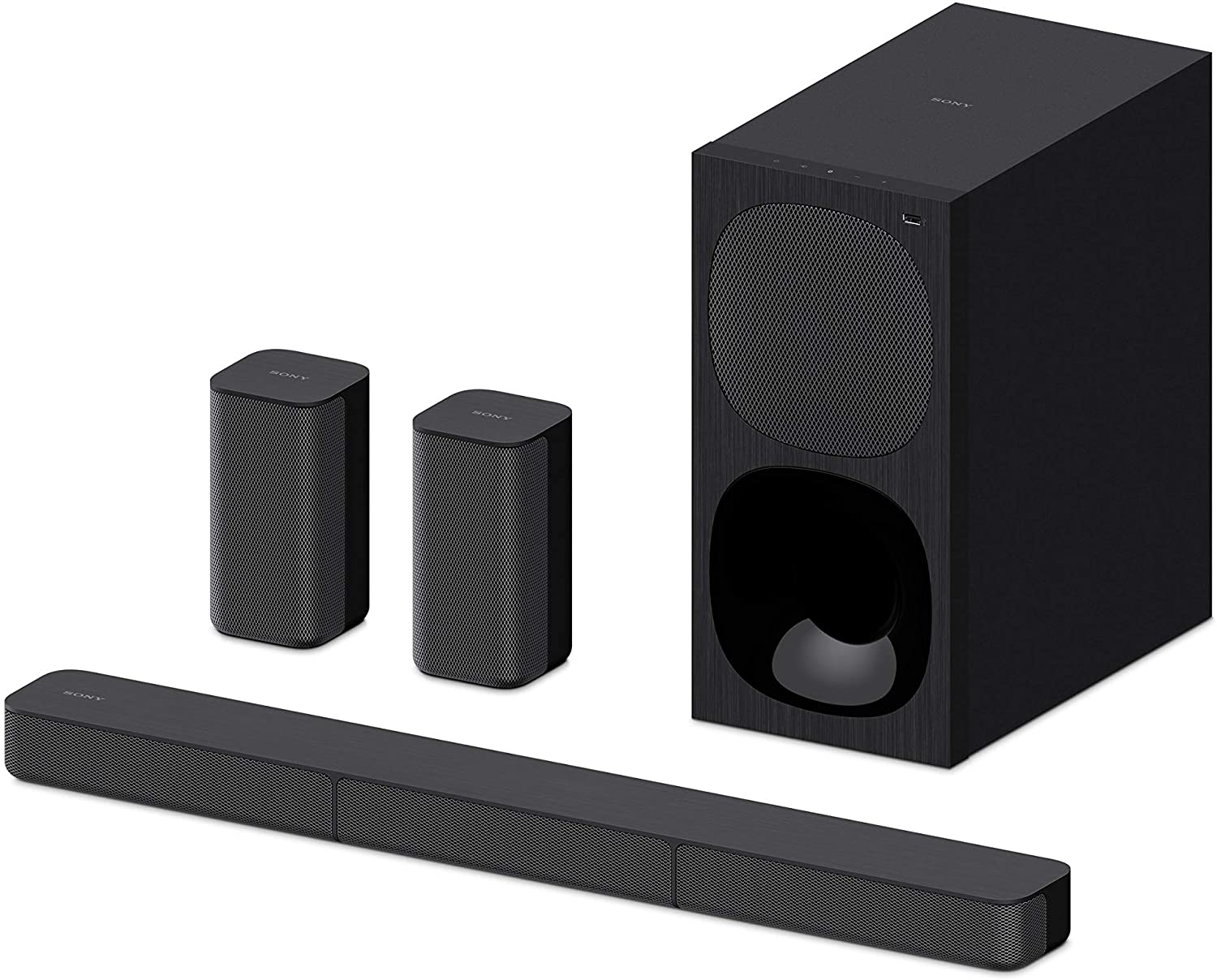 Yes, it's totally possible to use a soundbar with other speakers as long as they can natively talk with each other or have the same connectors as the output device. However, it's a bit more complicated than that since soundbars rarely have built-in audio out port.
For starters, most soundbars are designed to be used independently. Based on the model, they already pack the audio drivers and a dedicated signal processor to simulate multi-channel spatial audio without needing to set up separate speaker units around the room.
The drivers inside the soundbar are positioned at a specific angle so that the sound bounces off the wall or other surfaces in your room instead of directly firing towards you. Hence, it gives the impression of a stereo or multi-channel surround sound effect even when the soundbar is placed in front of you.
Taking that into consideration, adding extra speakers to a soundbar can immediately make the audio worse as they might not have the same drivers across the board. Chances are you will also run into frequent audio desync and cutoff issues. Unless you are using a separate audio mixer or receiver with outputs for individual channels, the audio will be limited to two speakers only.
As such, we recommend not using your soundbar with other speakers except when it actually comes with the additional speaker units in the box. Messing with dozens of cables, adapters, or receivers will unlikely yield any positive results.
Can you Turn a 2.1 Soundbar into a 5.1 Soundbar?
Technically, it is possible to turn a 2.1 soundbar into 5.1 by combining it with three additional speakers. However, it isn't a good idea, considering that you need to invest in extra hardware and probably live with poorly mixed audio.
As many of you already know, most entry-level soundbars have a 2.1 audio channel, with left and right rear speakers and a subwoofer. Plus, they use post-processing trickery to simulate surround sound. Turning a 2.1 soundbar into a 5.1 is particularly tricky and can be expensive enough to buy a new surround sound system at one point.
If you are aware of all the technical challenges and still want to go down the line, check out the solutions below.
1: Use official Surround Sound Speakers
Multi-channel soundbars like the Sony HT-S20R and the Polk Audio MagniFi MAX SR come with two separate rear speakers and a subwoofer unit. Some standalone 2.1 soundbars also support surround sound speakers that you can buy separately. They let you upgrade the existing setup without spending heaps of money on a new sound system.
As we mentioned before, not all soundbars offer native support for external speaker units. If you happen to have one of them, consider moving on to the next option.
2: Use a 5.1 AV Receiver
With an AV receiver that has audio output and pre-out ports, you can have granular controls over individual audio channels. However, it's worth mentioning that it requires many trials and errors to configure an AV receiver, so it isn't recommended for inexperienced users.
You can use either RCA, AUX, or TOSLINK cable to connect your soundbar to the AV receiver. Similarly, you can plug your regular surround sound speaker units into the receiver. After that, connect the receiver to the source device and power everything on. You can follow the user manual to make adjustments to the whole setup.
Bear in mind that you will most likely never get it sound as good as a real 5.1 surround sound system due to the fact that soundbars are designed explicitly for standalone usage. Additionally, you will need to fiddle with the configuration and cables to get everything working, wasting several hours of your precious time.
If nothing seems to work even after correctly configuring the AV receiver, try disabling high-resolution audio output (e.g., DTS-X, Dolby Atmos) from your source device. Sometimes, adjusting particular settings from the software is as crucial as setting up the hardware itself.
3: Get a Universal Rear Speaker Kit
A handful of audio device manufacturers sell universal rear speaker kits that include at least a receiver, a transmitter, and a pair of front speakers. You can add them to your soundbar, but the audio output quality will vastly vary based on the setup.
You can commonly daisy-chain these devices with optical TOSLINK cables, but ensure that the audio connectors on the source media device before you make a purchase decision. If your soundbar happens to have an HDMI ARC port, we recommend connecting it to the transmitter over an HDMI cable.
Similar – Connect Soundbar to Sky Q Box
Verdict: What's the Best Option?
Considering the technical limitations and proprietary solutions, it's best to use a regular soundbar without combining it with other speaker units. Alternatively, you can replace your soundbar with a surround sound home theater system for a significantly better spatial audio experience. Else, consider purchasing a 5.1 soundbar that actually comes with external speakers.
Remember that using a universal rear speaker kit or AV receiver will sacrifice the sound quality. Furthermore, they are quite tricky to set up, and you won't even get a real surround sound experience out of it. Hence, we don't really recommend spending money on them unless you know what you are doing.