The following guide will show you How To Connect Soundbar To Sky Q Box. 
The Sky Q box is the top-of-the-range offering from the popular TV provider. It has several advantages over the Sky+ boxes, but it retains all the mainstream features consumers expect from a satellite television provider.
If you have recently purchased a Sky Q box to enjoy live channels, sports, and video-on-demand content in 4K, chances are you also invested in a better AV system. Apart from using it with an Ultra HD TV for the best possible video quality, connecting an external sound system to the set-top box ensures that the audio fidelity is uncompromised.
Many users skimp on a dedicated sound system. In case you have bought one to enhance your experience, setting it up with the Sky Q set-top box will get you the most out of your subscription. You might wonder how to do it, which is why we have prepared this guide about how to connect soundbar to sky q box.
How to Connect Soundbar to Sky Q Box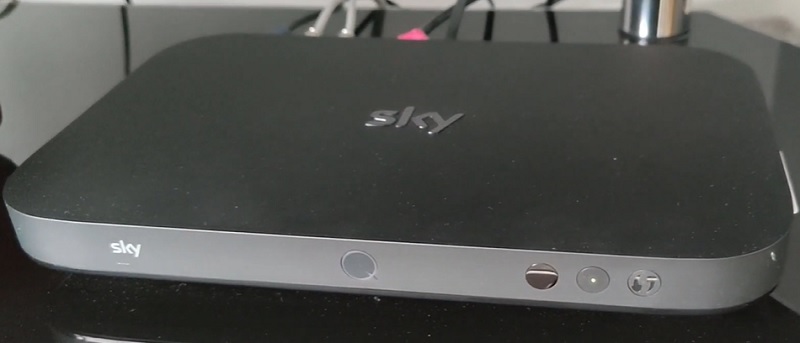 The process of connecting an external sound system to Sky Q box is relatively straightforward. You can generally rely on two interfaces to connect an audio output device to the set-top box, which we have discussed below in detail.
HDMI ARC
HDMI ARC (Audio Return Channel) has become the widely accepted solution in recent years for connecting multiple media devices to a singular audio setup. You can set up your home theater system or soundbar with the Sky Q box over HDMI ARC as well.
The first thing you need to do is find the HDMI "ARC / eARC" slot on the rear side of your TV set, then plug in one side of the HDMI cable to it. After that, connect the other end of the cable directly to the sound system's HDMI port. You can now run another cable from one of the free HDMI-ins on the TV to the Sky Q box's HDMI-out port.
As you might have already noticed, the sound system isn't connected to the Sky Q box with the following setup. This is where HDMI ARC does its job, relaying the audio data from the set-top box to the TV and feeding it to the sound system over HDMI.
When in use, the TV should intelligently switch the audio source to HDMI ARC and disable the built-in speakers. Depending on your setup, you may or may not have to manually change the source from the settings.
Select older models of the Sky Q box included an HDMI-in port, but it has been disabled with a newer firmware update. The port is entirely absent from the newer hardware revisions.
Optical Audio (TOSLINK)
In case your TV doesn't have HDMI ARC support, consider connecting your sound system to the Sky Q box over the TOSLINK interface or an optical cable.
In the following configuration, you will need to connect one end of the optical cable to the audio system's Optical port. The other end of the cable goes into the Optical Digital Audio Out port of the Sky Q box.
Since every model of the Sky Q box has an Optical audio interface, there shouldn't be any issues related to compatibility. Even if your TV includes an HDMI ARC port, you always have the alternative option to connect your audio device directly to the Sky Q box over TOSLINK in case ARC fails to function properly.
Can you use Bluetooth to Connect Sound System to Sky Q Box?
The Sky Q box has Bluetooth, so you technically could pair it with a sound system that provides Bluetooth connectivity. Unfortunately, that isn't the case due to the limited software implementation.
You can only play music on your Sky Q box from your phone over Bluetooth or Apple AirPlay. The device itself can't transmit audio signals to a wireless sound system via Bluetooth because of the firmware restrictions.
Why should you Use HDMI ARC?
HDMI ARC is mostly a plug-and-play solution, and it has native support for surround sound codecs. Furthermore, you can use your TV remote to control your home theater system or soundbar volume.
If you are looking for a clutter-free home cinema setup, using HDMI ARC to connect media devices to the TV is much more efficient compared to using several individual cables for audio output.
Is there a Difference in Quality between HDMI and Optical Audio?
When using a Sky Q box and an entry-level surround/stereo sound system, there's literally zero noticeable difference in audio quality between HDMI and optical interfaces.
In case your sound system supports Dolby Digital Plus, DTS HD, or TrueHD audio formats, then HDMI is the way to go. TOSLINK is capable enough to carry 5.1 surround sound, but it can't transmit high-resolution audio signals like HDMI.
Apart from that, we recommend using the HDMI ARC interface if you have a 7.1 home theater system. Optical doesn't have support for the 7.1 audio channel.
Can you use Sky Q Remote to Control the Sound System's Volume?
The Sky Q remote offers universal controls for TVs and sound systems. All you have to do is go to the Settings > Setup > Remote Control menu from the main Sky Q interface, then follow the on-screen steps to set up volume controls for your external audio device.
When your Sky Q box is connected to your home theater audio system or soundbar over HDMI ARC, you can use your TV remote to control the volume as well.
Wrap Up
In this guide, we have covered the basics for connecting a stereo/surround sound system to Sky Q box. You can go for either HDMI ARC for a seamless experience or optical for legacy devices.
While HDMI ARC has its advantages, it might not work correctly across different TV and sound system models. In that case, optical or TOSLINK proves to be a hassle-free interface.
For further assistance regarding the following topic, we advise you to contact Sky customer support. They will certainly help you troubleshoot the audio connection issues over the phone or visit your house to fix it for you.