The Sky Q set-top box is one of Sky's best offerings all around. It's not only significantly slimmer but also capable of handling high-bitrate Ultra HD streams compared to the older Sky+ and Sky+ HD boxes.
It also brings HDR support, better PVR functionalities, as well as Dolby Atmos on compatible AV hardware. Furthermore, Sky Q boxes run a slick modern user interface that's smart and intuitive.
If you have recently bought an Amazon Echo device for smart home automation, then you probably have thought about controlling your Sky Q box using voice commands.
After all, Amazon Echo devices come with Alexa integration, and the Sky Q set-top boxes run modern hardware and software.
You can continue reading this guide to learn whether Alexa works with Sky Q or not. We have gathered some information about Alexa and Sky Q that you definitely will find helpful.
Can Alexa Work with Sky Q?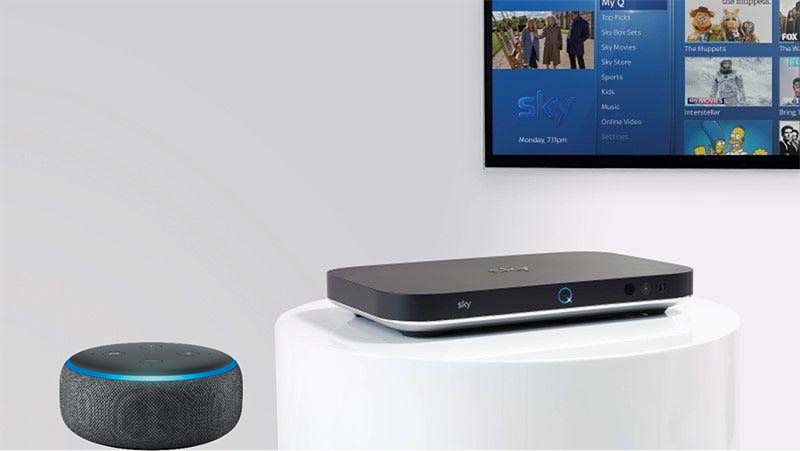 Unfortunately, Alexa doesn't officially work with Sky Q set-top boxes. However, there are a few third-party alternatives that you can take advantage of.
Plenty of community-made Alexa skills have been created in the past years or so, but none of them work properly after the recent firmware updates on Sky Q boxes.
Optionally, Sky Q users can use an aftermarket hub to link Alexa with their set-top boxes.
It's worth mentioning that there is an official Sky TV Alexa skill in the Amazon Appstore, but it's only for use in New Zealand. You won't be able to use it with your Sky Q box.
Despite the fact that you can unofficially get Alexa working with Sky Q, we strongly advise you not to do it in case you are unfamiliar with setting up static IPs, forwarding ports through the router settings, and manually tweaking Alexa skills.
Please proceed only if you are experienced and knowledgable enough to go through the hassle and take the risk.
See – Best HDMI Cables For Sky Q
Setting Up Unofficial Alexa Skill for Sky Q
Before you follow this guide, remember that it's an unofficial solution and has several unfixable bugs and additional issues.
The Alexa skill is made by a community developer and hence considered unofficial, so keep your expectations low. It might or might not work based on your Sky Q set-top box revision.
As we previously discussed, getting the unofficial Alexa skill work with Sky Q isn't an easy task. You will have to make changes to your existing network configuration and ask your internet service provider for a static IP and forward ports through your router setup page.
You can find the detailed setup instructions on Mark W's (ndg63276) Alexa-Skybox Github page.
Here are some things you will have to do in order to get the unofficial Alexa skill working with the Sky Q box:
Forward TCP ports, configure a static IP address, and enable Dynamic DNS on your router.
Set up OAuth 2 for Amazon account linking, plus configure the unofficial Alexa skill.
Create a basic AWS account and set up Amazon Web Services Lambda.
Link your Amazon account to the Alexa skill, then set it up with your Sky Q box.
As you can already see, you got a lot of work to do, which might be difficult if you are inexperienced in such things. However, there's another relatively straightforward solution that can help you control sky q with Alexa.
Using a Hub to Get Alexa Working with Sky Q
You can use an aftermarket hub to send commands to the Sky Q box from an Alexa device. The Logitech Harmony Elite Hub is the best option in that regard, as it natively works with Alexa.
You can control your Sky Q box and other smart home entertainment devices just with your voice.
While it's not possible to execute advanced actions on the Sky Q box using a Harmony Hub, you can at least change the volume, switch channels, power on/off the Sky Q box, and navigate through the TV guide. It's also relatively easy to set up, and you can configure the Harmony Hub using your Android or iOS device.
However, the Logitech Harmony Hub is not only expensive, but it also suffers from connectivity issues from time to time, according to the user complaints in public forums. Still, it's the only viable solution for controlling the Sky Q box with Alexa voice commands.
You can also buy other smart hubs from the market that offers the same functionality at an affordable price. But, we certainly can't confirm if it would work with the Sky Q box or not.
Use Sky Q's Voice Control Instead
Although it's not the same as using Alexa, Sky Q's built-in voice control is pretty good.
You can use dozens of voice commands to search for your favorite movies and TV shows, navigate through the interface, change channels, open and close apps, play and pause videos, set DVR schedule for a particular program, access the TV guide, and do many more things.
It's as easy as holding the voice button on the Sky remote and releasing it after you say the command.
Based on which model of Sky Q set-top box you have, you might have to pay extra to get the Sky remote with the voice search functionality.
However, it still is cheaper than getting a dedicated hub and much easier to pair with the Sky Q box.
Related
Wrapping Up
Sadly, Alexa integration on the Sky Q box is quite far from reality at the time of this writing, and we can only hope that Sky adds it with a software update in the near future.
While you can try out the unofficial Alexa skill or use a smart control hub to send voice commands to your Sky Q box, you probably should stick with Sky Q's built-in voice controls for now.
That way, you won't have a spend a dime on an expensive smart hub or put extra effort into setting up the buggy Alexa skill. In fact, most of you will be accustomed to the built-in voice search options in a matter of a few days!