Does Avast VPN Work with Netflix? In this article, we will explain everything you need to know about avast secureline VPN for Netflix and will give you some solid tips to unblock Netflix. Read on to learn more.
You probably have heard of Avast before. The multinational brand from the Czech Republic is renowned for its cybersecurity software suite, and over 430 million users use Avast's free and paid security products on their devices every month.
In 2015, Avast launched its own VPN service SecureLine, checking all the boxes in terms of user privacy and security. It includes several crucial features, including 256-bit AES traffic encryption, DNS/IPv6 leak protection, advanced network kill switch, smart connect rules, and single-shared IPs designated for its VPN servers.
Does Avast VPN Work with Netflix?
Avast SecureLine users have reportedly complained about having problems with Netflix, the major streaming service infamous for its advanced proxy detection protocols, and VPN blocking capabilities.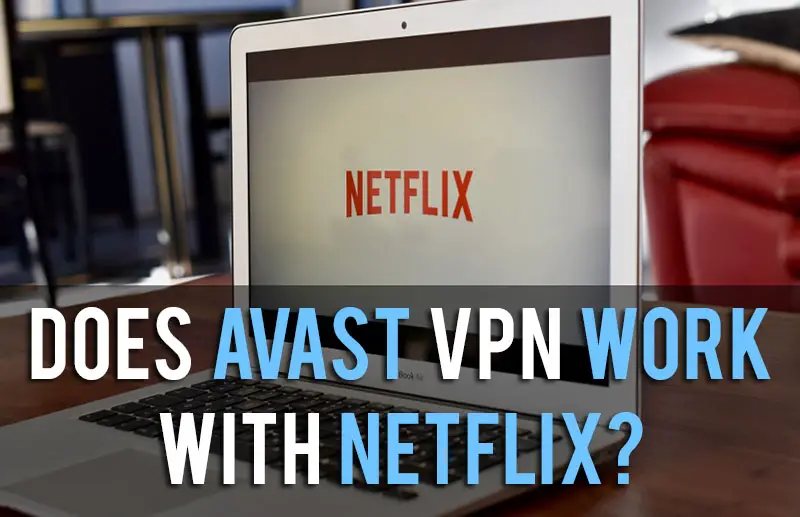 After testing it ourselves, we found out that Avast SecureLine's VPN servers are utterly incapable of accessing the Netflix libraries in several different countries, including the American one. If you have encountered the same issue, then you might want to continue reading this article for more information.
Why can't you Unblock Netflix with Avast VPN?
Although Avast SecureLine is an ideal VPN solution for privacy-focused users, it isn't enough to unblock certain geo-restricted websites and streaming services as of now. SecureLine does have its fair share of shortcomings, and one of them is its network of VPN servers.
If you go to Avast SecureLine's product page right now, you will be surprised to see that it only has 55 servers across the world, and 16 of them are scattered around the United States only.
When you compare the numbers to the current competition, it falls way behind in the rankings, and it's not ideal for the end-user anymore.
In case you didn't know, Netflix can detect heavy user traffic from a specific IP address, then flag it to a blacklist and restrict users from accessing its streaming library.
Encrypted proxies are also a red flag for Netflix, and it's explicitly used by VPN servers. Since Avast SecureLine doesn't have many servers or unique IP addresses to work with, Netflix probably already have blacklisted 90% of the SecureLine VPN servers.
Unlike the industry-leading VPN providers, Avast SecureLine hasn't expanded its network of VPN services in a long time, which definitely is the sole reason why Netflix doesn't work anymore with the servers.
On Avast's defense, they don't specifically claim to unblock streaming services reliably. However, considering that the vast majority of VPN services can now unblock Netflix with their specialized servers, there's no excuse for Avast to skimp on the essentials.
Avast SecureLine is an excellent and affordable VPN solution if you are concerned about your privacy on the web.
Its proprietary VPN protocol runs over UDP, and it never throttles your network bandwidth.
If you are connected to a school or office Wi-Fi hotspot, then SecureLine's network traffic obfuscation capabilities can help you unblock restricted websites anonymously. With select servers, you also get peer-to-peer networking for your torrenting needs.
As good as Avast SecureLine is, it fails to give users access to a vast catalog of VPN servers, and you can't rely on them to unblock foreign Netflix libraries by any means.
Unblock Netflix with ExpressVPN Instead
To protect the licensing rights and agreements with partner networks, Netflix is working hard to implement unbreachable geo-restriction protocols for its services.
It has already successfully blocked dozens of VPN providers, but ExpressVPN is one of the only exceptions in this regard.
ExpressVPN is the most popular VPN service with an ever-expanding list of VPN servers all around the globe.
It currently has 3000+ servers in 160 locations across 94 countries, which is massive compared to SecureLine's offerings.
With this many allotted servers and IP addresses, ExpressVPN is capable enough to take on Netflix's geo-restrictions and proxy blocking methods.
With ExpressVPN, you can access the Netflix library of 20 different countries, including the United States, Canada, Australia, the United Kingdom, Japan, etc.
It also establishes a secure and throttle-free connection over OpenVPN (UDP/TCP), L2TP, SSTP, PPTP, IKEv2, or WireGuard VPN protocols.
When you connect to a VPN server, the first thing you notice is the slow internet speed, which is mostly caused by the encryption layer and server distance.
However, ExpressVPN's servers provide you the fastest speeds you can get over a VPN connection while maintaining security and privacy on the web.
As your internet service provider won't be able to identify your network traffic, you won't experience connection throttles or interruptions during stream playback on Netflix.
If you are looking forward to unblocking the American Netflix library from your country, ExpressVPN's servers in Atlanta, Dallas, Los Angeles, New York, New Jersey, San Francisco, Seattle, and Washinton DC will help you do it without hitting roadblocks.
ExpressVPN's customer service is also exceptional, with 24/7 live chat executives and email support. Whether you are trying to unblock Netflix or troubleshoot VPN network connection, ExpressVPN's support staffs are always ready to help you out with your issues.
Additional Benefits of ExpressVPN
ExpressVPN fully encrypts your network traffic with the AES-256 encryption standard, which is also used to secure classified government documents and credentials.
It doesn't log your data or sell it to third-party advertisers/government agencies. ExpressVPN respects your privacy on the internet and strictly prohibits user data collection. Its zero-log policy has been put to the test by several independent auditors, and it has gracefully passed every single one of the audits.
ExpressVPN's Network Lock feature blocks your internet traffic in case of a drop in VPN connection, whether it's your ISP's fault or you switch to a different Wi-Fi network while connected to a VPN server. It's basically an advanced kill switch that keeps your sensitive browsing information from being exposed to the prying eyes.
All of ExpressVPN's servers support peer-to-peer (P2P) connection. You can hide your real IP address and keep torrenting as much as you want. It works with almost all BitTorrent clients, including uTorrent, qBittorrent, Deluge, etc.
ExpressVPN's flexible subscription plans are covered by a risk-free, 30-day money-back guarantee, and you can get a full refund in that period.
Conclusion
Avast SecureLine VPN does an excellent job of keeping your privacy and anonymity on the web in check, but if you ask us "does avast VPN work with Netflix? then it doesn't work with Netflix anymore.
In that case, ExpressVPN has got you covered with its specialized techniques for bypassing Netflix's geo-restrictions, as well as its sizable list of VPN servers in 90+ countries worldwide.
ExpressVPN offers its client app for Windows, Mac, Linux, Chromebook, Android, iOS, Fire TV, and many more devices. You can also use it with your Chrome or Firefox web browser, or manually set it up on routers, smart TVs, and several other VPN-incompatible devices.