In this article, we will show you how to access Philo in Canada or outside the USA. Read on to Find out how to get Philo TV in Canada.
OTT live TV and on-demand streaming services, such as YouTube TV, Hulu Live TV, fuboTV, and AT&T TV NOW have successfully outpaced cable TV services, thanks to their streamlined features, uplift in quality, and a significant reduction in subscription prices.
Cord-cutters in the United States get special treatment, as they get to choose from several online live TV providers. The subscription prices are all over the place, ranging from Sling's $30 plans to AT&T TV NOW's $80 MAX package.
However, paying over $50 might not seem to be a viable solution for some cord-cutters, considering that they also have to pay for a high-speed internet connection in order to maintain a smooth streaming experience.
Affordable live TV providers like Philo fulfills the demand for budget cord-cutting alternatives with reasonable subscription prices. But, Philo is available to stream exclusively in the United States, with no words on the expansion of its services in other countries for American ex-pats.
In Canada, cord-cutting solutions are very limited. While services like BYUtv, Acorn TV, Crave, and CBS All Access are some of the most popular live TV streaming services, there are no options for American ex-pats to watch US-based live TV channels in Canada.
Now that you are here, you might have already heard about Philo and want to know whether it's possible to watch Philo in Canada. This guide will answer your questions, and you should definitely keep reading to learn more.
What Exactly Is Philo?
Streaming live TV over an internet connection is relatively hassle-free, but subscription plans aren't necessarily cheaper than an entry-level cable TV package.
Philo is one of the only streaming services that offer live TV for a compelling subscription price of $20/month.
Philo's channel lineup mostly consists of channels from A&E, AMC, Discovery, and Viacom. You get 59 channels to watch, including Animal Planet, BBC America, Comedy Central, Discovery, Food Network, FYI, Hallmark Channel, Lifetime, MTV, Nickelodeon, Paramount Pictures, SCI, truTV, VH1, etc.
At this price point, you don't get sports and local network channels to watch online. But, Philo does offer an on-demand streaming library with over 25000+ titles to stream.
You even get cloud DVR functionality for free, which has no limit on storage, and you get up to 30 days to catch up on the recorded shows you have missed.
If you forget to schedule DVR for a program, then you can still watch it with Philo's 72-Hour Rewind feature, which gives you access to a show aired in the past three days.
Philo's $20 subscription lets you stream live TV on three different devices at the same time. Up to ten personalized profiles can be created as well.
In case you are wondering, stream quality is also quite decent on Philo, with 720p for live TV channels and 1080p for on-demand content. In conclusion, Philo is an excellent streaming service for those who want to stream American TV channels in a budget.
Why Can't I Watch Philo In Canada?
As we previously mentioned, Philo's live TV services are limited to the United States only. One of the main reasons why you can't watch Philo in Canada is the fact that American channels might not appeal to Canadians, so there's no point for the service to roll out in other countries, let alone in Canada.
Convoluted copyright-terms and streaming rights are indirect reasons. Philo licenses the on-demand movies and series from other American content providers.
As a result, Philo is legally bound to protect the agreements, which forces them to use geo-blockers in place and limit the usage of the service in the United States only.
Some of the on-demand content offered by Philo is most probably exclusive to watch on other streaming services in Canada. Although Philo can remove them to avoid legal disputes, it is too much of a sacrifice and not worth the hassle, considering that the company won't make much profit by providing channel streams that Canadians don't even watch.
How to Watch Philo in Canada?
Since Philo uses geo-blockers to restrict users from accessing its streaming services in a non-serviceable area, visiting philo.com from a web browser will lead to this message: "Sorry, Philo is only available in the United States… for now."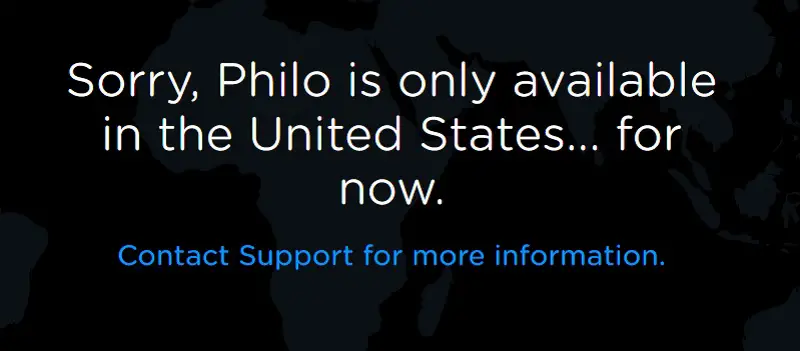 Let's discuss how geo-blockers work. When you visit a geo-restricted website, the geo-blockers first check your IP address. The IP address is unique for every user on the Internet, and it is always associated with the primary location of a user.
If the geo-blockers identify your location from the IP address, then you will be redirected to the error message. This is how Philo restricts its usage in Canada or other North American countries.
The definite solution to this exact problem is to simply take advantage of a Virtual Private Network, which is mostly known as a VPN among people.
A VPN service forms a private network between the client and a server. In this form of secure and encrypted connection, your network packet requests are sent to a private DNS instead of your local DNS server provided by your internet service provider.
In simple words, you are browsing the web or streaming from a web server hosted by your VPN provider, and your real IP address is also replaced by the web server's IP address.
With a VPN, you can bypass Philo's geo-restrictions by connecting to a United States server. Until you disconnect from your VPN, you will have unlimited access to Philo's streaming library, as long as you have a Philo subscription to go with.
Requirements
Here are some things you need before you start following the steps to unlock Philo in Canada:
An Active VPN Subscription: It is mandatory to purchase a VPN subscription from a trusted and reliable VPN provider. A quick web search might show you a few free VPN services, but they are unreliable, often slow, and puts a data cap on daily usage.
If you can't decide, then we would recommend you to give ExpressVPN a try, which we often suggest to others for its exceptionally fast VPN servers across 75 countries in the world.

You can learn more about it at ExpressVPN, and purchase a VPN subscription. ExpressVPN offers monthly and yearly subscription packages at fairly reasonable prices.
Modern Web Browser: Make sure to update the web browser on your device, whether it's Microsoft Edge, Google Chrome, Safari Browser, or Mozilla Firefox. Otherwise, you might face security errors at the time of the payment or account creation process.
Step 1: Install & Set Up ExpressVPN On Your Device
ExpressVPN offers its client app for a vast list of operating systems, even select network routers. Go to expressvpn.com/vpn-software, select the OS that powers your device, and follow the official setup guide to download and install the ExpressVPN client.
Step 2: Connect To Express's US VPN Server
Connecting to an ExpressVPN server is straightforward. Follow the steps below to learn how to do it:
Open the ExpressVPN app on your device.
From the Americas section under the All Locations tab on the following window, select the United States as your server location.
Hit the Connect button, and ExpressVPN will connect you to the server in a few seconds.
Step 3: Get A Philo Subscription
Once you connect to VPN, minimize the ExpressVPN, open up a web browser on your device, and follow the steps below to get a Philo subscription.
Head over to philo.com, which is Philo's official website.
Enter your email address in the required field and click Get Started.
Now type in your credit card information carefully. For zip code, you can take your Canadian zip code, take the three digits from it, and add two zeros at the end. (Example: A2B3C4 -> 23400)
After entering your payment information, click Subscribe and follow the on-screen instructions to pay for the Philo subscription. You will also be asked to complete your Philo account creation process after that.
Step 4: Stream Philo In Canada Without Geo-Restrictions
Upon signing up for a Philo subscription, you can log in to the Philo official app or the web version on a modern browser using your Philo account credentials. As long as you are connected to a United States VPN server, you can continue streaming live TV channels and on-demand content from Philo's streaming library.
Which Devices Can I Use To Watch Philo In Canada?
Philo's list of officially supported devices is enormous, which includes Android/iOS smartphones or tablets, Android TV, Apple TV, Amazon Fire TV, Roku devices, as well as Windows and macOS PCs.
However, you will also have to use a VPN service to watch Philo in Canada, which Apple TV and Roku doesn't natively support yet. For those devices, you will have to go through a router-level VPN configuration, which is only intended for advanced users.
Related Articles
Conclusion
This guide has hopefully answered all of your questions regarding Philo in Canada. Philo's $20 USD subscription plan doesn't offer the best lineup of American channels, but it's more than enough for an American ex-pat in Canada.
Although a VPN can bypass Philo's geo-restrictions, note that it doesn't help you get past the paywall. You will still have to pay for the subscription plan in order to access Philo's live and on-demand offerings.