In this step by step guide, we will show you how to set up and use NordVPN on Roku.
VPN is a must need for both internet security and bypassing geo-restrictions on services with limited access. In case you didn't know, it's possible to connect to a private server with a VPN client, creating a temporary tunnel that handles your network traffic.
As a result, your web activities are completely anonymized, and malicious trackers won't be able to log your activities.
Another widespread usage of VPN services is unblocking geo-blocked websites, especially streaming services. Due to the nature of content licensing and digital distribution rights, streaming services are limited to offer specific movies, series, or live sports in a restricted region.
Most of these services either use GPS or your IP address to identify a user's location. Since a VPN practically changes your IP address when connected to a server, it's quite easy to bypass the geo-restrictions of a particular service.
Now, most devices support VPN services. NordVPN, one of the best VPN services available worldwide, is natively compatible with a vast list of operating systems, including Windows, macOS, Android, iOS, Android TV, Amazon Fire TV, Linux, as well as modern web browsers like Google Chrome and Mozilla Firefox.
Sadly, some devices aren't natively compatible with NordVPN because of software limitations. One of the devices is Roku, which is currently dominating the world of streaming devices.
However, there's a way to configure NordVPN locally, and you can connect multiple devices to it, whether it's a compatible or an incompatible device. You can follow this guide to Set Up NordVPN on Roku.
What does NordVPN Offer?
Before we talk about the setup process of NordVPN on Roku in detail, let's discuss various features of NordVPN first. If you didn't know, NordVPN is a global leader in providing trusted and reliable VPN services worldwide.
NordVPN currently uses two of the most secure protocol suites for encryption, which are OpenVPN and IKEv2 (IPsec). It also uses AES (Advanced Encryption Standard) with 256-bit keys to encrypt user network traffic. NordVPN has quite recently launched its proprietary VPN protocol called NordLynx, which makes up for a secure VPN connection.
NordVPN doesn't store any sort of user information, whether it's public IP addresses, session time, user-generated traffic, connection time, etc. It is one of the few VPN providers that ensure a strict zero-policy and is approved by independent auditors.
At the time of this writing, NordVPN is offering access to 5100+ VPN servers across 59 countries, including the United States, Canada, United Kingdom, Germany, France, Netherlands, Spain, Australia, New Zealand, Singapore, India, and many more.
While VPNs are infamous for throttling internet speeds significantly, NordVPN neither limit your internet speed nor put a bandwidth cap for user sessions.
Most of Nord's VPN servers also support P2P networking, letting users transfer huge files much faster, as well as better efficiency. Users can have a much better experience with streaming services that use P2P for content distribution.
At once, hundreds of users can connect to a VPN server, sharing the same IP address. In such cases, streaming services or websites blacklist the IP, resulting in restricted access to the website for all users. NordVPN lets users select a server with a dedicated IP address so that they can avoid such instances of limited access to certain websites or services.
For more security, you can use Nord's Double VPN feature, which routes your network traffic through two VPN servers instead of one, encrypting your data twice in the process. Nord's Obfuscated servers can also bypass network firewalls that strictly limits internet access to only whitelisted websites.
One of the best features of NordVPN is Cybersec, which automatically blocks badly behaving websites with malware, annoying clickbaity advertisements, and phishing scams.
To take advantage of NordVPN's features, all you need is an active plan. The monthly plan currently costs $11.95/month, but you can also go for the yearly plans.
NordVPN often offers heavy discounts on their annual plans, so you grab a long-term VPN subscription at an affordable price $3.49/month for the next three years is an excellent deal if only you can consider the one-time payment.
How to Set up NordVPN on Roku?
Roku is always in the compatibility list of major streaming services, due to its massive userbase.
However, Roku OS is still in its infancy even after the debut of Roku's eighth generation of devices. The development of standalone channels for Roku is a long process, and system-wide VPN support is still absent from Roku's inferior operating system.
While it's impossible to install and use NordVPN on a Roku streaming device natively, you can set up NordVPN on your Wi-Fi router instead, connect to Nord's secure server, and enjoy streaming restricted content on your Roku-powered device without limitations.
Assuming that you have a compatible router, you can follow Nord's detailed router setup guides to configure a router-level NordVPN connection.
It's worth noting that some of the guides suggest users install custom firmware on their routers, so continue at your own discretion. Also, you can't set up NordVPN with an unsupported router that isn't included in the compatibility list of the custom router firmware.
If you have a dedicated Wi-Fi adapter on your Windows PC or laptop, you can share your NordVPN connection on Windows with other devices on the same network, including Roku. The following steps will show you how to setup NordVPN on Roku.
Prerequisites
You will need an active NordVPN plan linked to your account. In case you haven't already signed for a NordVPN plan, then click here to get one at an affordable price.
Go to nordvpn.com/download/windows/ to download and install the NordVPN client for Windows, then log in to the client with your account credentials.
While it isn't necessary, we recommend you to check for the latest Windows 10 update from Settings > Update & Security > Windows Updates.
Step 1: Enable Mobile Hotspot
Assuming that you have an integrated or external plug-and-play Wi-Fi adapter solution on your Windows PC/laptop, Windows should automatically recognize the device. To share your NordVPN connection with Roku, simply do the following:
First, click the Network icon in the Windows taskbar, then click the Network & Internet settings option in the pop-up menu.
Select Mobile hotspot from the sidebar, then toggle on "Share my internet connection with other devices."
If necessary, you can click the Edit button below the toggle to assign a name and password to your personal Wi-Fi hotspot.
Step 2: Configure NordVPN Tap Adapter
NordVPN Tap Adapter is a virtual Ethernet driver that allows your Windows PC to connect to Nord's VPN servers. Follow the steps below to configure network sharing:
From the Network & Internet menu, select the Status tab in the sidebar.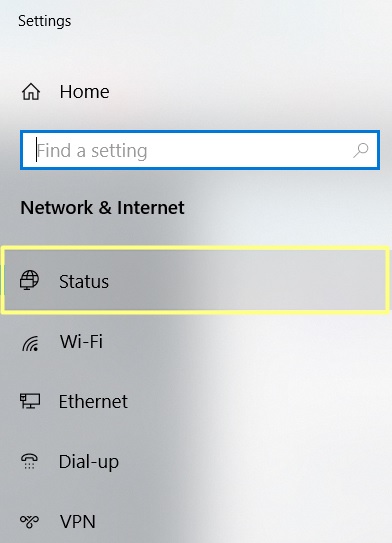 Next, click Change adapter options under the Advanced network settings.
Now right-click the TAP-NordVPN Windows Adapter V9 option and select Properties.
After that, go to the Sharing tab and tick the box next to "Allow other network users to connect through this computer's Internet connection."
Click the drop-down menu under Home network connection and select the mobile Wi-Fi hotspot that you enabled earlier.
Click OK to save the changes.
Step 3: Connect to your preferred VPN server
Now that you have set up network sharing for the NordVPN TAP adapter, launch the NordVPN client on your Windows PC, then either click Quick Connect or select a country manually from the list. You will be instantly connected to the fastest VPN server available for you in that country.
Step 4: Connect your Roku device to the Wi-Fi hotspot
You can finally connect your Roku device to the Wi-Fi hotspot on your Windows PC/laptop and enjoy unrestricted access to streaming services with NordVPN. Here's how:
Press the Home button on your Roku remote.
Select Settings from the Roku home screen, then click the Network.
Select Set up connection on the following page, then select Wireless from the list.
Once Roku finishes scanning for Wi-Fi networks nearby, select the Wi-Fi hotspot name from the list of connections, and enter the password you have assigned for the hotspot (if necessary).
Finally, click the Connect
To toggle off the mobile hotspot, you can follow step #1 as instructed in this guide. Also, click the Disconnect button in the NordVPN client window to disconnect from the VPN server.
Wrapping Up
Although Roku devices don't have native support for VPN clients, we have shown you an alternate way to set up NordVPN on Roku in this guide.
Configuring your router or a Windows PC to share NordVPN connections with non-compatible devices is an intricate process. But for now, it is the only way to stream geo-restricted content from Roku's streaming channels.