The following step-by-step instructional guide will show you How to Watch BBC iPlayer in New Zealand on any streaming device.
BBC iPlayer is the oldest video streaming service around. It's quite popular in the United Kingdom thanks to its massive catalog of British shows and films, as well as documentaries and news coverage.
The service offers on-demand content for a broader range of audiences from BBC's lineup of TV channels, including BBC One, BBC Two, BBC Three, BBC Four, CBBC, BBC News, BBC Radio 1, BBC Parliament, Cbeebies, BBC Alba, and S4C.
In a survey report by GlobalWebIndex in 2015, it was estimated that over 65 million people outside the UK used BBC iPlayer for catch-up content consumption, which has probably grown to a few million more in the last five years.
It also proves that the streaming service is popular worldwide because it not only has a sizable content catalog but also provides ad-free access to the viewers.
Kiwi cord-cutters and British ex-pats can stream BBC iPlayer in New Zealand as well, even though the service is geo-restricted to the United Kingdom.
We have prepared this guide to help you watch BBC iPlayer in NZ so that you can have unlimited access to the service's vast streaming library.
There are several reasons why BBC iPlayer is unavailable outside the United Kingdom. According to BBC, most of BBC iPlayer's content has been sourced from multiple content providers, similar to other streaming services hosting off-network shows.
We won't go into much detail about streaming rights, as it's convoluted at its best. Put simply, BBC and the distributor of particular content has signed an agreement to make the content available for streaming in BBC iPlayer, but only in the United Kingdom.
It leaves BBC with no choice but to honor the rights agreements and put geo-restrictions on its BBC iPlayer service.
In case you didn't know, the UK TV license basically funds the television, radio, and online streaming services from BBC, including the iPlayer. Since you need a TV license in the United Kingdom to watch television, the licensing is also restricted to the local residents only.
BBC has definitely shown interest in allowing UK TV license payers to access BBC iPlayer while they are outside the country. However, it all boils down to technical limitations and content licensing legislation in the United Kingdom.
For now, there are no plans to roll out BBC iPlayer in other countries, and we are skeptical if it will ever happen without the intervention from a third-party individual.
How to Watch BBC iPlayer in New Zealand?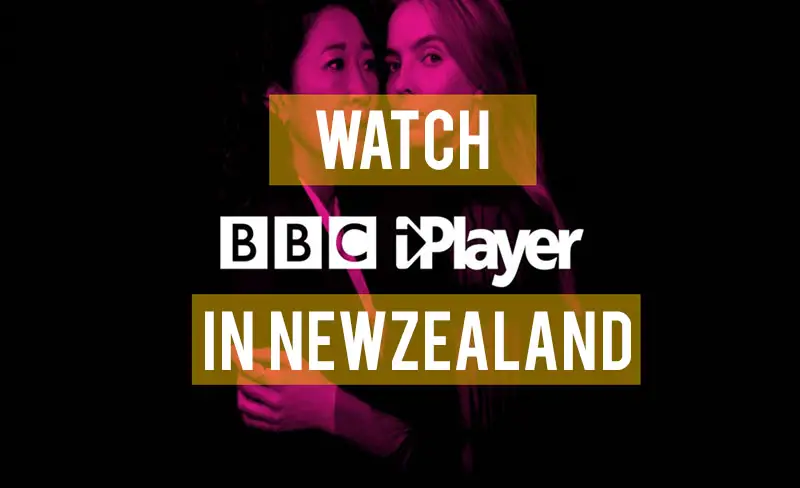 BBC iPlayer relies on geo-restriction protocols to offer its services only in serviceable regions, just like what we have seen for the vast majority of streaming services.
To access BBC iPlayer, you will need a UK IP address. An IP address is a special identifier for every internet user, and it carries metadata about the geolocation of the user.
Since anyone can have a basic idea of where you live based on your IP address, it's easy for BBC iPlayer to identify your location as well.
If you try to stream BBC iPlayer in NZ right now, you will encounter an error message that says, "BBC iPlayer only works in the UK." The issue can be easily rectified by using a VPN service. Here's how it works.
When you are directly connected to a VPN server, your network packet requests and network traffic goes through an encrypted layer of DNS instead of your internet service provider's DNS server.
In simple words, you basically browse the web on the VPN server and get the results on your device. If the VPN server is in another country, then your virtual location will also change to the server's geolocation. And if you haven't guessed, your real IP address stays hidden, and you identify as the server's IP address instead.
Using the same methodology, you can connect to a VPN server in the United Kingdom and spoof your real info with a UK IP address. This way, you can get past BBC iPlayer's geo-restrictions and stream unlimited live and on-demand content from the service for free.
Watch BBC iPlayer in NZ with ExpressVPN
You can unblock BBC iPlayer in New Zealand with ExpressVPN, which is currently one of the best VPN solutions available right now.
In the United Kingdom, ExpressVPN lets you choose between four different locations for connecting to its VPN servers, which are Docklands, London, East London, and Wembley. In addition, you can connect to 3000+ VPN servers in 156 different locations across 93 other countries.
ExpressVPN uses the AES-256 encryption standard to encrypt your network traffic. The VPN servers are also trusted and reliable, which doesn't log any of your personal information and browsing activities.
Furthermore, ExpressVPN's Network Lock feature blocks your network traffic in case of a connection loss with the VPN server, keeping your web activities anonymous.
VPNs usefully impact internet speeds because of the encryption, but ExpressVPN's fast routing and unlimited bandwidth provide a smooth and buffer-free streaming experience.
In fact, many internet service providers often throttle the bandwidth when streaming, which is now also avoidable as they won't see your activities anymore.
ExpressVPN even guarantees higher succession in bypassing BBC iPlayer's geo-restrictions, as they have specialized servers for it in the UK. You can follow the steps below to watch BBC iPlayer in NZ using ExpressVPN.
1: Get an ExpressVPN Subscription
ExpressVPN is a subscription-based VPN provider, with monthly, annual, and semi-annual subscription tiers. In case your experience with ExpressVPN isn't satisfactory, then you can take advantage of their 30-day money-back policy as well. It applies to all the plans. Just follow the steps below to get your ExpressVPN subscription:
Visit the ExpressVPN website.

Select your preferred ExpressVPN subscription tier, then enter your personal email address.
Now choose your method of payment for the subscription. Alongside credit card and PayPal, there are multiple payment methods available.
Once your payment for the subscription is processed, you will be redirected to the ExpressVPN account creation process. Check your mail inbox to verify your email, then enter a password for the ExpressVPN account.
2: Download & Activate ExpressVPN on your Device
You can install ExpressVPN on Android, Windows, macOS, Linux, iOS, and Fire TV devices, as well as get in on your Chrome or Firefox browser with the official browser extension.
ExpressVPN offers separate setup guides for several devices, which you can check out from expressvpn.com/vpn-software. The device activation process is relatively easy too.
If you are planning to watch BBC iPlayer on your Windows PC, then you can go through the following process:
Visit the My Accounts tab from the ExpressVPN website. You will have to sign in with your ExpressVPN account.
Next, click the Download for Windows button, and wait for the ExpressVPN app installer to complete downloading.
While you are on your accounts page, copy the Activation Code for the ExpressVPN app activation. You can also keep it noted down in case you need it in the future.
Now go to your Downloads folder from the windows file explorer, then double-click the ExpressVPN installer executable. Click Yes if you are prompted by the UAC (User Account Control) window.
After that, click Next to skip through the introduction pages of the installer, then click Set Up ExpressVPN. In case the UAC window pops up again, click Yes to allow the installer.
Once the installation is done, a shortcut to ExpressVPN will be created on the desktop, and the app should launch automatically. You can now paste the activation code in the required field by pressing Ctrl + V on your keyboard.
Finally, click Sign In to activate the ExpressVPN app on your Windows PC.
Now that you have activated the ExpressVPN app, you can now connect to a VPN server.
3: Connect to one of United Kingdom's VPN Server with ExpressVPN
To access BBC iPlayer, you can connect to one of ExpressVPN's United Kingdom VPN server. Just do the following:
On the main window of the ExpressVPN app, click the ellipsis icon (⋯) next to the Smart Location It will open a separate window.
Now click All Locations in the window and choose Europe from the list.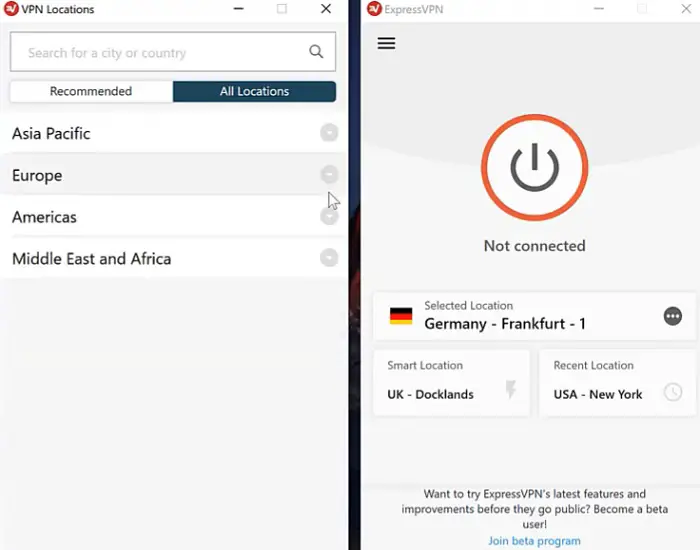 Scroll down and select the United Kingdom. Make sure that it's set as the server location in the main app window.
After that, click the big power button to connect to one of ExpressVPN's servers in the UK.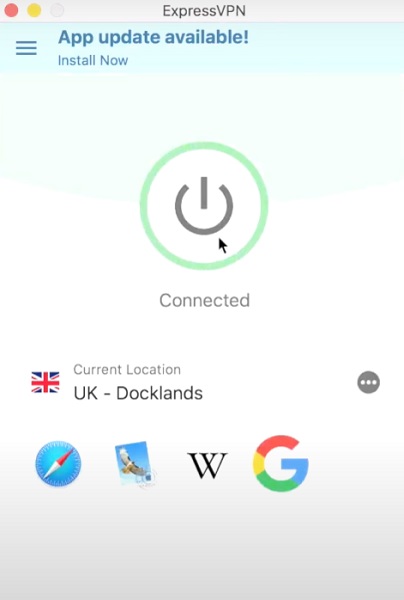 ExpressVPN will auto-select the best server in the United Kingdom closest to your geographic area. However, you can manually select a location in the UK from the server window.
4: Visit BBC iPlayer and log in
Since you are connected to the United Kingdom VPN server, you can now access the BBC iPlayer webpage from New Zealand. However, you will have to log in with an account in order to access its streaming library. Here's how to do it:
First, go to bbc.co.uk/iplayer from your web browser and click the profile icon above.
Now click Register now to get to the account creation page.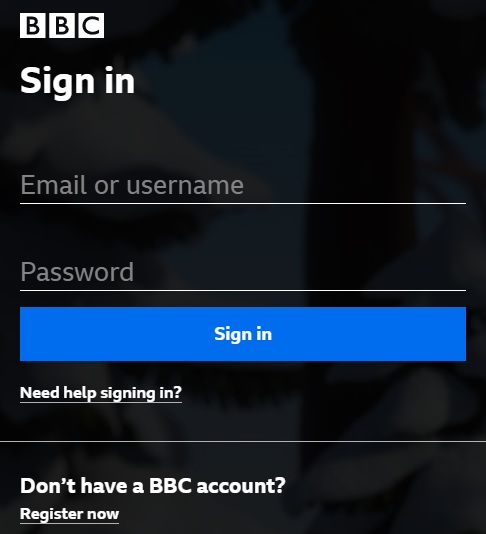 Select your age threshold and enter your date of birth. Click Continue to proceed.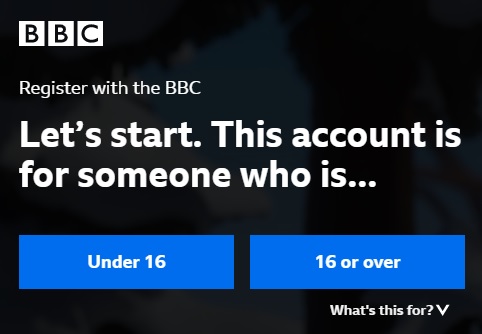 Now enter your email address and a password on the following page.
Also, enter a UK postcode (go to postal-code.co.uk for it), select your gender, and click Register.
You will be asked to register for BBC newsletters. Click the "No, thanks" option, then click Continue to proceed.
Now check your mail inbox for an email from BBC Account. You will be given a link to verify your email address.
Once you have verified your email, you can now select something to watch from BBC iPlayer's library. Click "I have a TV License" if asked, then click Play without PG Lock. Even though watching BBC iPlayer without a TV license is a criminal offense in the UK, the laws don't apply in other countries.
That's it! The stream should start playing back. For the best video quality, click the gear icon in the player, then select Highest available for the Video quality. Click the chat bubble icon to enable subtitles for the stream.
Which Devices can you Use to watch BBC iPlayer in New Zealand?
You can stream BBC iPlayer on your favorite devices, whether it's an Android/iOS mobile or tablet, Amazon Fire TV, Android TV, Apple TV, Roku, NVIDIA Shield TV, or PlayStation 3/4, Xbox One, smart TVs from Samsung and LG, etc.
As shown above, you can watch BBC iPlayer from a modern web browser on your PC and Mac as well.
However, there are certain limitations regarding the VPN support, which you will need to watch BBC iPlayer in NZ and other countries. Not every device has native support for a VPN client, so you will have to configure your Wi-Fi router for a home network-wide VPN connection. But, ExpressVPN does have a feature called MediaStreamer for such use cases, which you can check out here.
What can you watch on BBC iPlayer?
BBC iPlayer gives you access to BBC's famous TV shows, including Normal People, Citizen Khan, Luther, Gavin & Stacey, EastEnders, Fleabag, Silent Witness, Fort Salem, Anthony, I May Destroy You, Mrs. America, etc.
BBC iPlayer also lets you watch award-winning BBC Three documentaries, as well as made-for-TV films, such as Darkest Hour, The Real Marigold Hotel, OK: Made in America, Primates, Edge of Darkness, Mississippi, Panorama, Blue Planet II, Miriam Margolyes – Almost Australian, The Rise of the Murdoch Dynasty, and more. In addition, you can watch live news and sports clips on-demand.
Related Articles
Wrapping Up
This guide has all the information you need to watch BBC iPlayer in NZ. Although it's possible to directly access the streaming service outside the United Kingdom, you can use a VPN on your device to get past BBC iPlayer's geo-restrictions.
While you can use other VPN services to do it, we highly recommend you to use ExpressVPN because of its advanced unblocking capabilities and active customer support.