Normally, watching Hulu in New Zealand would be impossible due to Geo-restriction. But don't worry! ExpressVPN can help you access Hulu from any country.
Streaming services have significantly evolved in the last few years and has become much more affordable compared to cable and satellite pay-TV providers. While a cord-cutter can choose between dozens of popular streaming platforms in Northern America, the options are far more limited in Asian, European, as well as Oceanian countries, including New Zealand.
Hulu, one of the major streaming services in the United States, is quite popular among streaming enthusiasts. Although Hulu doesn't have the same magnitude of on-demand content like Netflix, the starting USD $5.99 monthly subscription price is a great deal.
Considering that you get a vast library of movies and TV shows from both original networks and partner networks, Hulu is a must-have to your streaming collection. However, the service is currently open to the residents of the United States only, and it has no plans regarding global expansion until the next year or so.
If you live in New Zealand, then we have probably clarified the unavailability of Hulu to you at this point.
However, similar to other geo-restricted streaming services, it's possible to get past Hulu's restrictions. We have prepared this guide for those who are interested in watching Hulu in New Zealand, which has everything you need to get Hulu up and running on your preferred device.
Is Hulu Coming to NZ?
As we have previously mentioned, Hulu will supposedly roll out in 200+ countries across the globe starting from the next year, at least according to Disney's CEO Bob Iger. However, we have yet to see an official announcement from the service itself.
Many assume that Hulu's content preference doesn't match the audience's likings in other countries. Then again, Hulu has a massive collection of originals that appeals to the current generation of viewers, so it isn't the case at all.
The real reason behind the unavailability of Hulu in NZ is the licensing contract related to streaming rights. While Hulu provides a respectable collection of off-network series and other content, their streaming rights for the content is limited to the US regions only.
Similarly, Hulu's live TV streaming service only has American channels, which they have no permission to broadcast in other countries.
So, Hulu basically has no right to give others access to its streaming library without spending additional millions of dollars for proper licensing contracts.
Unfortunately, the same theory applies to other geo-restricted streaming services, and breaking the contract will result in a loss of partnership between Hulu and its partner content providers.
Is it Possible to Bypass the Geo-restriction of Hulu in NZ?
Hulu has placed geo-blockers on its apps and official website to disallow viewers outside the United States from accessing its streaming library.
However, it doesn't use advanced proxy detectors as Netflix, making it much easier to bypass the geographical boundaries with a VPN service. A VPN (Virtual Private Network) helps you change your virtual location spoof your real IP address, which is probably something you already know.
For those who don't know, IP addresses are unique identifiers on the web, and it carries a lot of small information, including your primary location. A VPN establishes a remote connection between your device and a secure server, then routes your network traffic through it instead of the local DNS server provided by your ISP.
If put simply, websites that you visit while connected to a VPN will answer to the private server's call, which means that your public IP address is hidden under the one designated for the VPN server. If the server is in another country, then your virtual location will also change to that.
Since Hulu's geo-blockers identify your location solely based on the IP address, you can easily get past the blockers by connecting to a US VPN server and watch Hulu in New Zealand without restrictions.
Read – Watch Hulu in South Africa
Watch Hulu in New Zealand with ExpressVPN

[su_button url="https://gekbuzz.com/go/expressvpn/" target="blank" background="#4CAF50″ size="4″ center="yes" rel="nofollow"]Get ExpressVPN[/su_button]
ExpressVPN is a trusted leader in providing VPN services worldwide, with more than 3000 anonymous servers in over 160 landmarks across 94 different countries across the globe.
Most of their United States servers are found in Atlanta, Chicago, Dallas, Denver, Los Angeles, Miami, New Jersey, New York, Salt Lake City, San Francisco, Seattle, and Washington DC, and a dozen of them are specialized servers that can unblock streaming services.
In addition, ExpressVPN has earned the reputation of being one of the most secure VPN providers, thanks to its support for AES-256 encryption standard and a no-log policy verified by independent security research groups.
ExpressVPN also advertises its "Network Lock" feature to be an advanced kill switch, which completely blocks your network traffic and keeps your anonymity on the web when you lose connection to the VPN server.
With ExpressVPN, you can also expect a buffering-free streaming experience on Hulu or other services, as it can automatically identify the best server in the United States (and other countries) for you and connect to it. The following instructions will show you how to watch Hulu in New Zealand with ExpressVPN.
#1: Register for an ExpressVPN Subscription
ExpressVPN is a premium VPN service and thus requires you to pay for a monthly, semi-annual, or annual subscription plan. As you get a 30-day money-back guarantee with all of the plans, you can get a refund on the service if not satisfied. Follow the steps below to register for an ExpressVPN subscription:
Select your preferred subscription plan.
Scroll down the webpage and enter your email address in the required field. After that, choose how you would like to pay for your subscription.
Enter your credit card details carefully (if selected), and click Join Now.
Once you go through the transaction process, you should receive an email from ExpressVPN regarding the account creation process. Click the link in the email, then enter a password for your ExpressVPN account.
#2: Get ExpressVPN on your Device and Sign in
The official ExpressVPN app is available for Android, iOS, Windows, Linux, macOS, and Amazon's Fire OS operating systems. You can also get the ExpressVPN browser extension for Google Chrome, Mozilla Firefox, and Microsoft Edge.
To download and install ExpressVPN on your device, visit expressvpn.com/vpn-software, and choose your operating system. You can also follow ExpressVPN's detailed installation guides for each device. Or, you can follow the steps below to install ExpressVPN on Windows:
Go to expressvpn.com and click the My Account tab above the page.
Next, enter your ExpressVPN account credentials and click Sign In.
On your account page, you will get an option to Download ExpressVPN for Windows.
Now copy the activation code shown on the following page. You will need it soon.
Once the ExpressVPN client installer finishes downloading, launch it and click Yes to allow the installer to run on your Windows PC.
Click Skip to skip the welcome screen, then click the Set Up ExpressVPN
Windows will ask you once again to allow the installation. Click Yes to proceed.
After ExpressVPN is installed, paste the activation code in the empty field of the client and click Sign In.
That's it! You are now signed to the ExpressVPN client on Windows. For other devices, you can check out the official setup manuals from expressvpn.com/vpn-software.
#3: Connect to ExpressVPN's US Server
Now that you are signed in, you can finally connect to one of ExpressVPN's secure servers in the United States and watch Hulu. Here's how to do it:
First, launch the ExpressVPN app on your device.
Next, click the three-dot icon next to the server picker below the big power icon.
From the Americas section under the All Locations tab on the following window, select the United States as your server location.
Now click the power icon and wait for ExpressVPN to connect you to the fastest VPN server in the United States.
Once you are connected, open up a browser tab and follow the next set of instructions below.
#4: Sign up for a Hulu Subscription
Since you now have access to Hulu, you can go through the sign-up process and get your Hulu subscription.
Visit hulu.com and click the button that says, "Start Your Free Trial."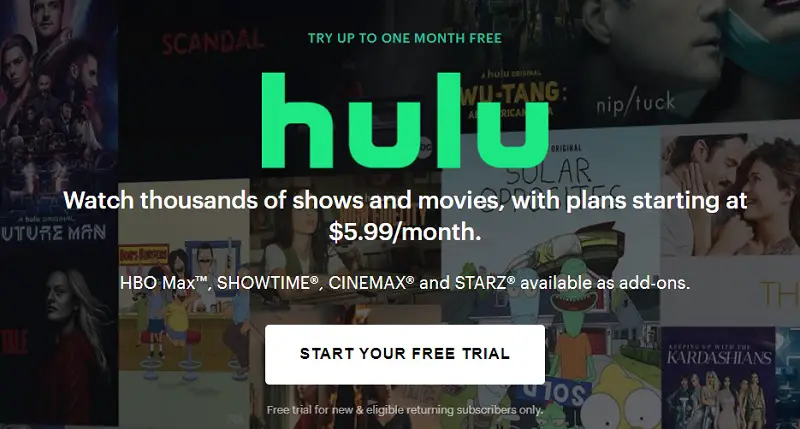 Click Select under the Hulu plan you choose to pay for.
Now fill up the account creation form with your email address and other personal information. Please use a strong password to prevent someone else from using your Hulu account.
Click Continue to go to the payments page. Review your subscription, then select PayPal as your payment method.
We recommend you to use PayPal over the credit card option to avoid international transaction fails. However, make sure to use a US address and zip code as your billing address.
As new users get the first month of Hulu for free, you will be charged for the subscription after the expiration of the trial period.
#5: Log in to Hulu and Start watching Hulu NZ
Once you have your Hulu account activated, you can log in to hulu.com or the official Hulu app on your device to watch on-demand series and movies from the service in New Zealand.
Do not disconnect from the VPN while you are streaming content from Hulu. Otherwise, you will be logged out of your account and restricted from logging back again until you reconnect to one of ExpressVPN's US servers.
Which devices can you Use to Watch Hulu NZ?
Hulu has a sizable list of compatible devices, including Android/iOS smartphones and tablets, Android TV, Apple TV, Amazon Fire TV, Roku, etc. It is also available on gaming consoles, such as PlayStation 4 and Xbox One.
If you have a smart TV from LG, Samsung, or Vizio, then you can also watch Hulu on it. Furthermore, you can access the web version of Hulu from a modern web browser on your PC and Mac.
While there are no restrictions on which device you can use to watch Hulu in New Zealand, you can't get ExpressVPN working on every one of them. Devices like Roku, Apple TV, and Smart TVs running a proprietary OS don't have native support for VPN services, which is why you will have to set up a network-wide VPN connection to watch Hulu on these devices.
ExpressVPN does have a detailed guide to get its VPN services working on incompatible devices, but you will be required to own a VPN-compatible Wi-Fi router.
What can you watch on Hulu in New Zealand?
It doesn't matter if you use a VPN to watch Hulu in NZ, you get complete access to its streaming library of 80000+ TV episodes, blockbuster films, and original series.
Hulu Originals, including Castle Rock, The Handmaid's Tale, Harlots, Little Fires Everywhere, Veronica Mars, Marvel's Runaways, Reprisal, The Great, The Act, Future Man, High Fidelity, Light as a Feather, Wu-Tang: An American Saga, and The Looming Tower are definitely a must-watch on Hulu.
Hulu also has off-network shows from ABC, NBC, FOX, Comedy Central, Adult Swim, and several other American television networks, which you won't find on streaming services like Netflix.
Also, Check
Wrapping Up
By using ExpressVPN or other VPN services, you can easily unblock Hulu in New Zealand and binge-watch your favorite shows and movies-on-demand.
While you will have to pay a premium for a VPN service alongside the Hulu subscription, it's the only viable and legitimate way to stream geo-restricted content from Hulu for our Kiwi readers.
How to Watch Hulu in New Zealand