In this guide, we will show you How to Watch Kayo Sports in New Zealand or any other country. we will help you stream the Sports on kayo outside Australia. 
In New Zealand, there's only a handful of on-demand video streaming services. For Kiwi sports fans, the options are much more limited in terms of sports streaming services.
Spark Sport is the best sports content provider for cord-cutters in New Zealand, offering live English Premier League matches, Formula One races, and NBA games. They also provide NFL, Rugby, Golf, ONE Championship, eSports, as well as national and international matches from the New Zealand cricket team.
Another option is Sky Sport NOW, which offers broader coverage of AFL, NRL, UEFA, Super Rugby events, etc. It even has streaming rights to NFL, MLB, and UFC content, thanks to Sky Sport NOW's contracts with nine major sports broadcasting networks. However, none of the options are as versatile as DAZN, which is expected to finally make its debut in New Zealand with the global launch this year.
In Australia, Kayo Sports is the biggest sports streaming service, which many of you already know. If you want complete access to Australian, European, and American sports events, then Kayo Sports is your ultimate destination.
Like most other streaming services, Kayo Sports uses geo-restrictions, so that foreign users can't access the live and on-demand sports streams.
If you are trying to watch Kayo Sports in New Zealand, then you can follow this guide. We have a workaround to bypass the restrictions.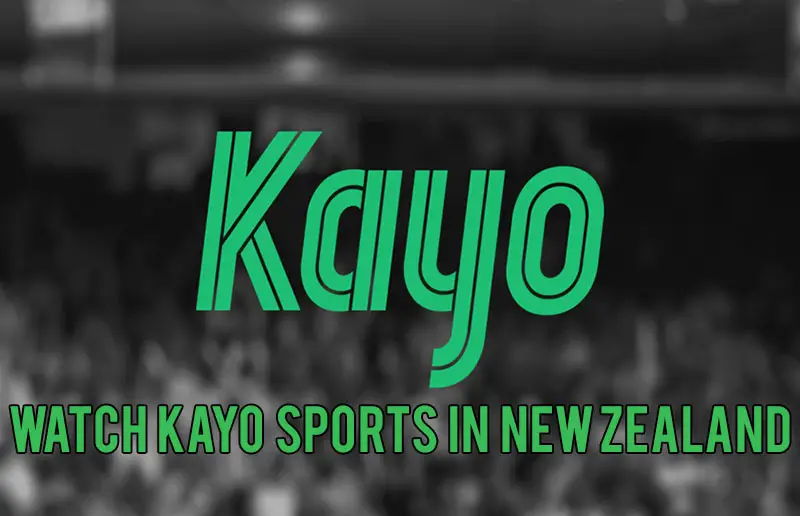 Kayo Sports launched back in 2018 exclusively in Australia, offering over-the-top live and on-demand sports content from Fox Sports, beIN Sports, and ESPN at an affordable subscription.
The service was never intended to launch globally by Foxtel, which is the famous Australian pay-TV provider. Kayo Sports is targeted to deliver sports content to those who have decided to cut the cable forever so that Foxtel never loses its userbase.
Also, the main reason for the unavailability of Kayo Sports in NZ is licensing rights. Major sports events often hit the highest TV viewerships in different countries, so there are a lot of streaming platforms trying to acquire streaming rights for specific sports events.
Kayo has struck multiple deals with global sports networks, but it is limited to the Australian region only. The sports networks give other services the right to broadcast the same sports events in other countries, making massive profits every year.
If Foxtel ever decides to expand its Kayo Sports platform worldwide, then it will have to pay billions of dollars every year for content licensing and distribution rights, which sounds quite impossible even for a company like Foxtel.
Can you Get Past Kayo Sports Geo-Restrictions in New Zealand?
While Kayo Sports uses geo-blockers on its service to restrict outsiders from streaming live and on-demand sports content, it isn't totally impossible to get past the geographical restrictions.
A Virtual Private Network or a VPN Service is a tool that can unblock websites and streaming services outside their serviceable areas. It can be used to spoof a user's real location by masking its public IP address.
An IP address is unique for every internet user on the planet. Anyone can identify a user's primary geolocation, alongside details about the internet service providers and other small information.
You can use a VPN service to remotely connect to an anonymous server in a different country, and transmit your network traffic through it instead of your local DNS server.
When connected to a VPN server, websites and services will be tasked to recognize the server's IP instead of the one provided by your internet service provider, resulting in a change of your actual geolocation.
Similarly, Kayo Sports identifies a user's location by the IP address and blocks it from accessing its service in case the location is outside Australia.
Even if you are in New Zealand, you can connect to an Australian VPN server and spoof your location. After that, you can enjoy Kayo Sports' offerings without encountering error messages.
Watch Kayo Sports in NZ with ExpressVPN

You can easily unblock Kayo Sports in New Zealand with ExpressVPN, one of the best VPN providers you can get right now. It offers thousands of private VPN servers in 90+ across the continents.
In Australia, ExpressVPN has servers in four cities, which are Brisbane, Melbourne, Perth, and Sydney. All of the servers support OpenVPN UDP/TCP, IKEv2, L2TP/IPSec, and PPTP VPN encryption protocols, which you won't find on other VPN services.
ExpressVPN can also block malicious ads and trackers on websites so that your sensitive data is always protected. The connection between the client and the server also uses the AES-256 encryption standard, saving you from the prying eyes of your internet service provider and cybercriminals.
In addition, ExpressVPN guarantees zero-log policy to deliver a private internet experience for its users.
Since Kayo Sports offers both live and on-demand streams, your internet speed should be adequate for an undisrupted streaming experience. ExpressVPN ensures that you are connected to the fastest VPN server, and your network bandwidth isn't sacrificed. You can follow the steps below to watch Kayo Sports in New Zealand using ExpressVPN.
Step 1: Sign Up for ExpressVPN
ExpressVPN subscription plans are available in three tiers, which are 1 Month, 6 Months, and 12 Months. You can get an ExpressVPN plan for cheap from the below link as we are providing a special discount for our readers.
The 30-day money-back guarantee of ExpressVPN gives you the option to get a refund in case it doesn't meet your expectations. Here's how to sign up for ExpressVPN:
First of all, visit expressvpn.com.
On the following page, choose your preferred subscription tier, then enter your email address.
Now select your preferred method of payment and enter your billing information if necessary. You can pay with either credit card or PayPal. Bitcoin and other third-party options are available as well.
Once you complete the transaction, your ExpressVPN subscription should get activated immediately. You will be asked to verify your email address and complete the account creation process later on.
Step 2: Install and sign in to the ExpressVPN client
ExpressVPN offers its official client for all range of devices running Windows, Linux, macOS, Android, iOS, Fire OS, etc. You can also install the ExpressVPN browser extension on Firefox, Chrome, and other Chromium-based web browsers.
Go to expressvpn.com/vpn-software, select your device's operating system, and follow the steps to install the ExpressVPN client and sign in with your subscription. For Windows users, we have compiled a step-by-step guide below.
Go to the My Account section from ExpressVPN's official website.
Enter your ExpressVPN account details in the required fields and click the Sign In
On the top section of your account page, you should see an activation code. Please copy it as it's required for the client sign-in process.
Now click the option that says, "Download for Windows" and wait for the Windows installer to finish downloading.
Once downloaded, double-click the installer file and click Yes on the UAC (User Account Control) dialog box.
After that, click Skip in the installer window, then proceed with Set Up ExpressVPN.
If you get the UAC prompt again, click Yes. Otherwise, ExpressVPN won't get installed on your Windows PC.
Once ExpressVPN is installed, the client will auto-launch, asking you to enter the activation code. Press Ctrl+V on your keyboard to paste the code you've copied earlier, then click Sign In.
Voila! You should now be signed in to ExpressVPN. The setup process is quite similar for other devices, and you can check out the official guides for Android, iOS, macOS, Linux, and Chromebook as well.
Step 3: Connect to ExpressVPN's Australian Server
Upon setting up the ExpressVPN on your client, you are pretty much ready to connect to your preferred VPN server. The following steps will show you how:
On the ExpressVPN client, click the ellipsis (⋯) icon next to the Smart Location.
From the server picker, select the All Locations tab, then choose Australia from the Asia Pacific.
Once Australia is selected as the server location, click the power icon in the main client window.
ExpressVPN will automatically find the best server for you in Australia and connect you to it in just a few seconds.
Step 4: Sign up for Kayo Sports subscription
Now that you are connected to an Australian VPN server, you can go to kayosports.com.au and follow the steps below to sign up for your subscription:
Click the "Try free now" option on the Kayo Sports official page.
Now choose between Basic and Premium plan and proceed to the registration page.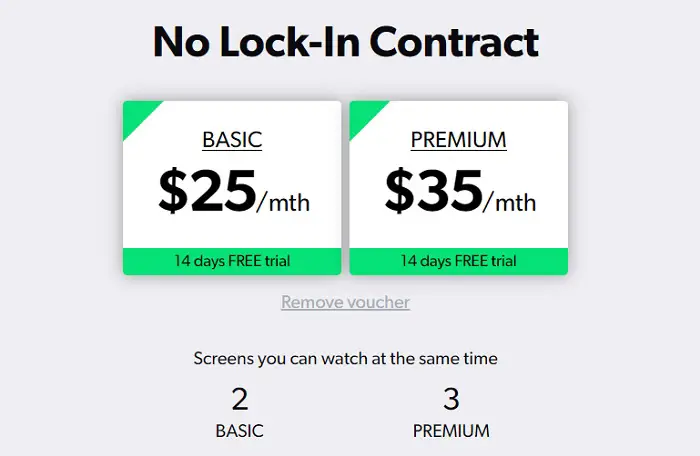 Enter your personal details in the necessary fields, including your mobile number, email address, and password. After that, click Continue.
Now verify your account by entering the OTP sent to your mobile number, then proceed to the payment option.
You can either pay with a Visa/Mastercard/Amex-supported credit/debit card or Apple Pay. If you go with the first option, then make sure that your card supports international payments. Also, enter an Australian address and zip code as your billing information to avoid regional restrictions.
You will be charged for the Kayo Sports subscription after the expiration of the 14-day free trial. During the trial period, you can choose to cancel the subscription if you want to.
Step 5: Sign in to Kayo Sports & Enjoy Streaming Live Sports
After your Kayo Sports subscription is activated, you can go back to the Kayo Sports home page and proceed to sign in to your Kayo Sports account.
As long as you are connected to ExpressVPN's Australian server, you will be able to watch live sports channels and on-demand highlights/replays from Kayo Sports in New Zealand.
Which devices can you use to watch Kayo Sports in New Zealand?
Kayo Sports offers streaming on Android (6.0+) / iOS (11+) smartphones and tablets, Android TV (7.0 or later), Apple TV (tvOS 11 or later), Chromecast (Gen 3), and Samsung Smart TV (2017 or later models).
The web version of Kayo Sports works the best on Chrome, Firefox, Edge, and Safari browsers. The service will also launch on other smart TVs and gaming consoles later this year.
Although you can use any of the devices to watch Kayo Sports, there are a few limitations.
Chromecast, Tizen OS (Samsung Smart TV), and tvOS (Apple TV) don't have support for VPN apps, which means you have to either go through advanced DNS configuration or set up the VPN service on your Wi-Fi router, assuming that it even has the option.
Fortunately, ExpressVPN does have tutorials for setting up the client on incompatible devices as well.
What can you Watch on Kayo Sports?
Kayo Sports offers live sports coverage from Fox Footy, Fox Sports, Fox League, Fox Cricket, Fox Sports News, Sky News Australia, ESPN, beIN Sports, Racing.com, etc.
You can watch thousands of hours of baseball, basketball, boxing MMA, cricket, motorsports, golf, hockey, rugby, tennis, and other sports events on-demand as well.
It includes AFL, NFL, NCAA College Football, MLB, NBA, Euroleague, home and overseas cricket matches from Australia/New Zealand, La Liga, Bundesliga, EFL Championship, US Open, PGA Tour, UFC, Formula E Championship, MotoGP, NASCAR, NRL Premiership, etc.
Most of the sports content is available to watch in high-definition. You can also tune in live to the flagship sports programming from Kayo Sports' partner networks.
You May Like – Watch BBC iPlayer in New Zealand
Finishing up
This guide has everything you need to unblock and watch Kayo Sports in New Zealand. You can use other VPN services if you want to. Still, we recommend using ExpressVPN for its reliability, exceptional customer support, plus fast and secure VPN servers in several countries, including Australia.
If you encounter streaming issues or have a question related to this guide, then you can leave your comment below. We'll do our best to help you out with your queries.