Screen mirroring has evolved over the years with advancements in wireless technology and processing capabilities. You can now use a casting stick or media streaming device to mirror your phone, tablet, or computer's screen directly to your living room TV.
If you are in the market for such a device, there are plenty of options, including Chromecast, AnyCast, EZCast, and Miracast. All of the following devices mostly offer the same functionality, but there are significant differences when it comes to the mirroring protocol, quality, and app compatibility.
This guide contains an in-depth comparison between the popular casting devices. We will rapidly go through each device and give you a summary of how they function.
What is Miracast?
First, let's address the elephant in the room. People often associate Miracast with a casting device, just like Chromecast. However, that's not the case at all.
Miracast is actually a wireless standard introduced by the Wi-Fi Alliance, allowing users to mirror their device's screen to a Miracast-certified display receiver over Wi-Fi. We can roughly describe it as "HDMI over Wi-Fi" in simple words.
The protocol relies on a peer-to-peer Wi-Fi Direct standard, meaning it doesn't require an active internet connection to work. The screen mirroring quality over Miracast is limited to 1080p 30 FPS video (H.264 / AVC codec) and 5.1 surround audio (AAC / AC3 codec). It works with most Android devices, as well as Wi-Fi-enabled desktops and laptops.
Miracast-certified receivers work with all Android phones and tablets running Android 4.2 Jelly Bean or newer versions. It's also compatible with Amazon Fire devices, along with PCs running Windows 8.1 or 10.
If you ever purchase a generic display receiver or smart TV with Miracast support, look out for the Wireless Display option in your Android device's Settings app.
Depending on the model and Android skin, it might also be labeled as Screen Mirroring, Cast, AllShare Cast, Smart View, etc. On Windows 10, go to the Action Center and click the Connect tile to connect to a Miracast receiver.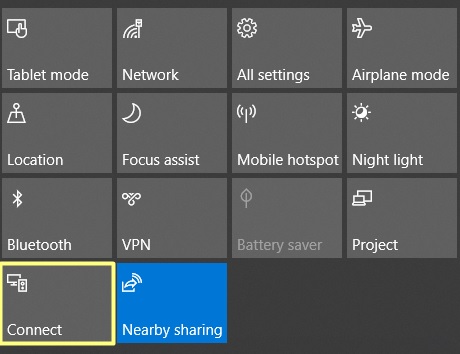 Unfortunately, Miracast doesn't work on iPhone and iPad devices. Apple devices have their own wireless streaming protocol called AirPlay, which is available only on higher-end smart TVs and set-top boxes.
It's worth mentioning that most Miracast receivers have their own Wi-Fi access point to connect to. However, if you have a Miracast-enabled smart TV or set-top box, all you have to do is connect it and your phone/tablet/computer on the same home Wi-Fi network.
You can then mirror your device's screen to the TV while still being connected to the internet.
The main downside of Miracast is that it can't stream anything above 1080p 30 FPS. Thus, it's impossible to enjoy 4K content over a Miracast receiver, even if you have an Ultra HD television.
Additionally, the aspect ratio of the mirrored video will be the same as your source device. It can cause annoyance as 16:9 widescreen videos don't fit on newer Android mobile devices with 18:9 or taller screens. With that said, it shouldn't be an issue in case you have an older Android phone or tablet with a 16:9 display.
How does AnyCast Work?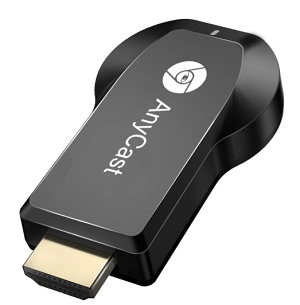 AnyCast is a lineup of display receivers that happen to use the Miracast protocol for screen mirroring. AnyCast dongles are priced fairly cheap, so you can afford one today without breaking your wallet.
Since AnyCast doesn't rely on a proprietary protocol and uses Miracast instead, it works out of the box with Android devices and Wi-Fi-enabled PCs/laptops. It may also work with iPhone and iPad devices, but you will need a third-party app like EZMira to get it working.
Obviously, most of Miracast's shortcomings carry on to AnyCast dongles. The mirroring quality is strictly limited to Full HD (1080p), and the source device needs to stay always unlocked.
Having said that, AnyCast receivers are budget-friendly options for screen mirroring, even if they aren't the best casting devices in the bunch.
What about EZCast?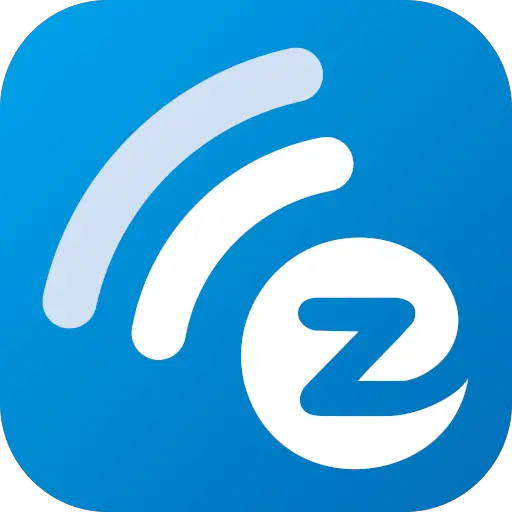 EZCast is pretty much the same as AnyCast, enabling wireless screen mirroring over the Miracast protocol. However, EZCast dongles usually ship with a moderately capable processor and 802.11ac 5 GHz Wi-FI support.
Thanks to the significant boost in processing power and wireless capabilities, it can output 4K (up to 4096 x 2160) video at 60 FPS. It's only possible over EZCast's proprietary streaming protocol, not Miracast.
Just like AnyCast, it works out of the box with Android and Windows. However, you will need to install the official EZCast app on your devices to take advantage of the receiver's full potential.
Some EZCast dongles also have AirPlay support, meaning you can mirror your iPhone or iPad's screen on a bigger display without running into the limitations of Miracast.
The downsides of EZCast devices might be a dealbreaker for you. For instance, the company heavily advertises its EZCast receivers (and projectors) to be suitable for office presentations and other business work.
On top of that, the lackluster feature set and hefty price tag (starting from 80 US Dollars!) don't really make sense for the average consumers.
What Exactly is a Chromecast?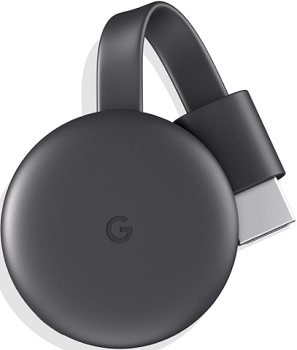 Chromecast is one of the most popular digital media players on the market from Google. It doesn't support Miracast but rather relies on its own protocols. However, that doesn't mean it can be used for screen mirroring like AnyCast and EZCast receivers. Besides, it has a trick up its sleeve that none other devices offer.
It has been seven years since Google introduced Chromecast devices. With each improved iteration of the device and deeper integration with hundreds of streaming apps, its core functionality has become so popular at a point where "Casting" a must-have feature on smart streaming players.
Provided that your Android/iOS device and the Chromecast device is connected to the same home network, you will see a 'Cast' icon whenever you open a video or music streaming app. Tapping it will initiate a connection to the Chromecast. At that point, you can simply pick up whatever you would like to play on your big screen.
What the app does is simply send a private streamable link to the Chromecast device, which then immediately starts playing back over the internet. Furthermore, you can use your phone or tablet to control the video playback and adjust the volume as if it's a TV remote.
While it requires an active internet connection for the Chromecast to playback online content, you can also cast offline media to the device from supported media players like VLC. If you have a Windows PC, casting Chrome browser tabs to a Chromecast is possible as well.
Chromecast dongles are easy to set up, and they are compatible with devices running Android 5.0 Lollipop and iOS 12.0 or later. Thousands of apps are natively supported, including but not limited to YouTube, Netflix, Hulu, Prime Video, Disney+, Google Photos, etc.
Our Chromecast Resources
AnyCast Vs Chromecast Vs Miracast Vs EZCast: Which one is the best for you?
Out of all the following receivers, Chromecast stands out to be the ideal option for most consumers. It can play online content without requiring the source device to remain always unlocked, and it's one of the most affordable solutions in the market.
While the screen mirroring is still limited to 1080p, you don't necessarily have to mirror your device's screen to enjoy watching movies, shows, and personal media on a Chromecast. The Chromecast Ultra delivers 4K 60 FPS video output with HDR and Dolby Vision support. You can connect it over either Wi-Fi or Ethernet (using the Ethernet adapter).
If you don't have an Ultra HD TV, you can opt for the cheaper Chromecast model that can only output up to 1080p. Apart from that, the latest Chromecast for Google TV device runs the newest iteration of Android TV, with all the features of a regular Chromecast device.
Most of the certified Android TVs (e.g., Sony, TCL, Panasonic) and set-top boxes (e.g., NVIDIA SHIELD, Mi Box S / 4K) also have Chromecast built-in.
AnyCast Vs Chromecast Vs Miracast Vs EZCast