SCART is an audio-visual interface of the past, superseded by the likes of HDMI and DisplayPort. Almost every AV equipment manufactured till the early 2000s used the bulky 21-pin. It didn't take long for HDMI to take over as the industry-standard for obvious reasons.
Of course, SCART is nowhere to be found in the modern-day as it's considered pretty much ancient at this point. However, if you are looking for a way to hook up your old VCR, DVD player, or game console that uses the SCART interface to your new television unit, you probably have already searched for SCART to HDMI cables.
Does A SCART To HDMI Cable Work? In this guide, we will share everything you need to know. Keep Reading!
Does A SCART To HDMI Cable Work?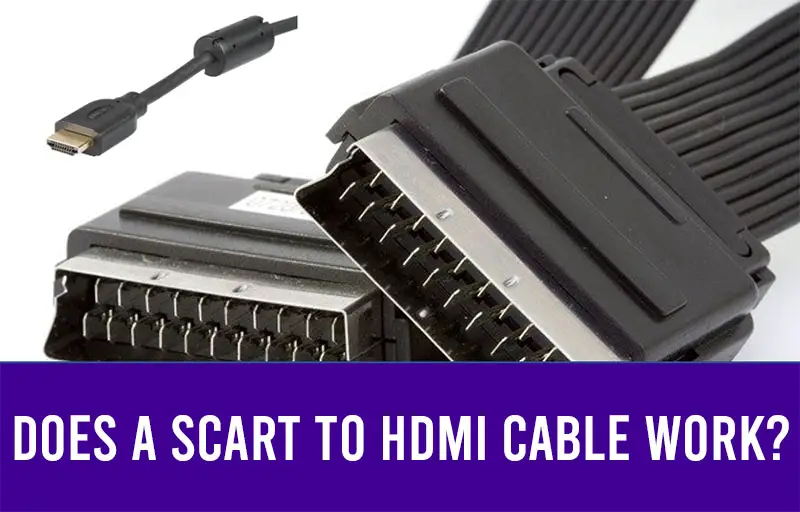 The truth is– such cables don't exist due to technical boundaries. Even if you have seen them somewhere, it's guaranteed not to work with your devices. Read through this guide to learn more and find out the alternative solution to getting to SCART to HDMI video output.
The technology underlying SCART and HDMI is entirely different. The two AV interfaces don't fit together because of the signal type. SCART uses analog signals for composite video and analog audio. In contrast, HDMI takes advantage of digital signals for uncompressed digital video and audio data transmission.
Due to the significant variance in signal type, SCART and HDMI aren't electrically compatible with each other. It also means that a passive cable simply won't work. Instead, you should look out for active SCART to HDMI converters that integrate special hardware dedicated to converting analog signals to digital.
What does a SCART to HDMI Converter do?
A SCART to HDMI converter does what a passive cable can't do– send a compatible video output from a SCART-compliant source device to a newer TV or monitor over HDMI. Its built-in signal processor actively converts analog signals from a SCART output and makes them comprehensible to an HDMI input.
Some SCART to HDMI converters even works the other way around. They also feature resolution upscaling, support for PAL/NTSC signals, and frame interpolation. On top of that, the converters work out of the box and don't require additional configuration.
Despite everything, remember that not all SCART to HDMI converters deliver the same video/audio quality. It depends on the converters' internal circuitry, signal processor, power delivery, and even the source media device. The quality and length of the SCART and HDMI cable on both ends of the converter also affect the signal conversion.
Which SCART to HDMI Converter should you buy?
SCART to HDMI converters are niche products, but they are available in large volumes at affordable prices. If you wish to get video output from your SCART-enabled media device to the big screen over HDMI, we recommend using the Neoteck SCART to HDMI converter.
We particularly prefer this converter over other options for many reasons. Firstly, it supports different SCART signals, including PAL, NTSC 3.58, NTSC 4.43, PAL/M, and PAL/N, so you won't need to worry about it being incompatible with your old media device.
It also automatically detects and converts the composite signals to digital, providing up to 1080p@60Hz upscale video output over HDMI. There's a physical button on the converter that allows you to switch between 720p and 1080p resolutions.
Additionally, the Neoteck converter has an onboard 3.5mm audio-out port, which extracts stereo audio signals from the SCART input and gives you the option to play the audio on a separate sound system. The converter only requires a 5V DC power.
The Neoteck SCART to HDMI converter also has a metal casing. It passively cools the internal signal processor to prevent it from overheating, provides exceptional durability, and reduces the possibility of external interference.
Lastly, the device only costs £21 on Amazon UK and has overall positive reviews. Note that it can't convert HDMI signals for SCART input devices. Its only function is to switch analog signals to digital in a single direction.
If you are in search of cheaper options, consider checking out the following SCART to HDMI converters below.
Wrapping Up
The only way to get an HDMI video output from a SCART-enabled media device is to use an active SCART to HDMI converter. Even though both can carry audio-visual signals, passive SCART to HDMI cables don't work due to the signal type.
On the other hand, HDMI is backward-compatible with DVI as they both use digital signal transmission methods. If you have an old DVI monitor you wish to use with your HDMI-compliant device or vice-versa, all you need is an HDMI to DVI adapter or cable to get a video output without any signal conversion.