Is AMD Radeon r7 good for gaming? Now that your question has led you here, we will go through different generations of R7 graphics cards in this guide to give you an idea of how they perform.
In 2013, AMD discarded its "HD" branding in favor of a more sophisticated R5, R7, and R9 naming schemes for its graphics cards in different price segments.
The Radeon R7 series was known as AMD's mid-range lineup of graphics cards for a while. Its final appearance was with the RX 400 family of GPUs in 2016.
If you are looking to upgrade your old PC with a used graphics card, chances are you have bumped into several Radeon R7 cards while browsing the market.
It makes you wonder whether these cards are worth purchasing today and good enough for gaming and basic video editing. In this guide, we will discuss everything you need to know about AMD Radeon R7. Let's get started.
How Does the R7 200 Series Fare Today?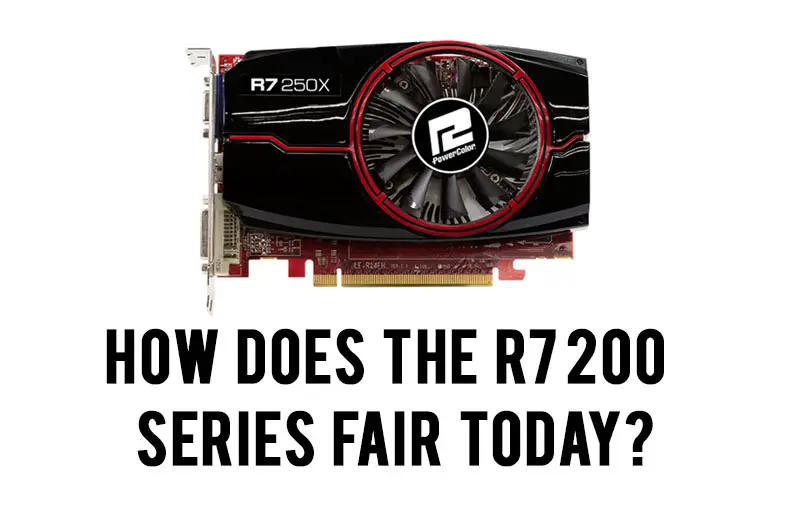 The R7 240, 250, and 250X are based on the 28 nm GCN (Graphics Core Next) architecture, a successor to the 40 nm TeraScale GPU architecture found on older Radeon HD cards. All the cards targeted a sub-$100 price point when they launched in 2013.
The R7 240 was the most affordable mid-ranger in its class, delivering 900p 30 FPS gaming to the masses. Fast forward to 2021, it struggles to offer acceptable framerates on the latest AAA titles, even at 720p or lower resolutions, and very low graphics presets.
However, the R7 240 has a low-profile design that doesn't need active cooling or additional power requirement. If you can find one used under $10, it's a fitting addition to pre-builts and regular PCs with power supply wattage limitations.
The R7 250 is a beefed-up version of the R7 240, but the performance difference is negligible on newer titles. The R7 250X is a rebadge of the HD 7770 GHz Edition, which is slightly faster than its non-X counterpart but has double the power consumption.
The comparison chart below will help you understand the technical differences between the Radeon R7 240, 250, and 250X cards.
| | | | |
| --- | --- | --- | --- |
| | Radeon R7 240 |  Radeon R7 250 |  Radeon R7 250X |
| Stream Processors | 320 | 384 | 640 |
| ROPs | 8 | 8 | 16 |
| Core Clock | 730 MHz | 1000 MHz | 950 MHz |
| Memory Clock | 900 MHz | 1150 MHz | 1125 MHz |
| VRAM | 2 GB DDR3 | 1 / 2 GB GDDR5 | 2 GB GDDR5 |
| TDP | 30 W |  65 W | 115 W |
If you are looking to play older titles, then the R7 200 cards are still a good buy (at dirt-cheap prices, of course). When paired with a decent CPU, you can probably enjoy some eSports games (e.g., CSGO, Valorant, Overwatch) as well.
The R7 250X can deliver respectable framerates in newer games as long as the resolution and graphics are set to low.
Does the R7 300 Series Perform Well?
The R7 350, 360, and 370 are based on the same 28 nm GCN architecture as the R7 200 family of graphics cards.
Oddly enough, the R7 360 was the only card among the main desktop variants powered by the 2nd-gen GCN architecture, which offered slightly better power efficiency and native FreeSync (Variable Refresh Rate) support.
The R7 350 is a successor to the R7 240, with a similar low-profile design with no additional power connector requirement. At $89 MSRP, it offered a reasonable price to performance ratio when it launched back in 2015.
It's capable of delivering adequate framerates in previous-gen titles at up to 1080p resolution, albeit with lower graphics presets. It officially has 2 GB of GDDR5 memory, but you can often find a souped-up 4 GB version in the market.
There's nothing special about the R7 360/370, other than the fact that they are essentially faster than the previous-gen cards. The R7 360 performs slightly better than NVIDIA's GTX 750 (not the 750Ti) in most titles.
Both of the cards require a 6-pin power connector. It should be mentioned that the R7 360 is basically a faster and power-optimized version of the R7 265, which was an OEM product only.
On older games, you can crank up the graphics to high preset and still expect to get high framerates at 1080p with an R7 360 or 370.
Current eSports titles like CSGO, Valorant, Dota 2, and League of Legends should run fine on these cards, provided that you pair them with a decent CPU and at least 8 GB of RAM.
| | | | |
| --- | --- | --- | --- |
| | Radeon R7 350 | Radeon R7 360 | Radeon R7 370 |
| Stream Processors | 512 | 768 | 1024 |
| ROPs | 16 | 16 | 32 |
| Core Clock | 925 MHz | 1000 MHz | 925 MHz |
| Memory Clock | 1125 MHz | 1500 MHz | 1400 MHz |
| VRAM | 2 GB GDDR5 | 2 GB GDDR5 | 2 / 4 GB GDDR5 |
| TDP | 55 W | 100 W | 110 W |
If you find the 4 GB variant of the R7 370 at an affordable price, it should pair excellently with entry-level Intel and AMD CPUs. It can deliver a locked 30 FPS on some newer AAA titles at 1080p on the lowest graphical preset.
Try to avoid the 2 GB variant of the card if possible, as you might run into VRAM limitations.
What About the R7 400 Series?
The R7 430, 435, and 450 were OEM-exclusive parts used in prebuilt PCs. Thus, it's challenging to find one on the present-day market at a justifiable price.
Not to mention, the following cards are basically rebadged variants of older R7 cards with a few small changes in the memory specifications. The performance is also subpar compared to the previous-gen R7 and R9 GPUs.
Even if you manage to find a used R7 400 series card, it's not worth the money.
Instead, look out for the RX 400 series graphics cards. The RX 460, 470, and 480 are based on the 14 nm Polaris (4th-gen GCN) architecture, which takes a generational leap in terms of performance and efficiency.
AMD released the following cards back in 2016, and they are yet to launch a true successor to the RX 400 lineup.
The RX 470 and 480 GPUs are also easier to find on the used market, as they were incredibly popular among cryptocurrency miners a few years ago.
Now that the mining craze has scaled down a bit, you should be able to grab an 8 GB variant of the RX 480 for under 100 bucks. It can run the newest AAA games at 1080p with medium to high graphics and still deliver respectable framerates.
| | | | |
| --- | --- | --- | --- |
| | Radeon RX 460 | Radeon RX 470 | Radeon RX 480 |
| Stream Processors | 896 | 2048 | 2304 |
| ROPs | 16 | 32 | 32 |
| Core Clock | 1090 MHz | 926 MHz | 1120 MHz |
| Memory Clock | 1750 MHz | 1650 MHz | 2000 MHz |
| VRAM | 2 / 4 GB GDDR5 | 4 GB GDDR5 | 4 / 8 GB GDDR5 |
| TDP | 75 W | 120 W | 150 W |
Note that both the RX 470 and RX 480 require a 6-pin PCI-E connector due to their higher wattage requirements. If you are on a limited budget or PSU upgrade options, the RX 460 is also a decent choice for playing eSports games and relatively older AAA titles.
Should you buy an NVIDIA Card Instead?
NVIDIA currently delivers industry-leading GPU performance on consumer desktops and laptops. Even though Radeon has recently caught up in the competition with their next-gen graphics cards, it will take more than raw performance to counter NVIDIA's attractive offerings.
For instance, NVIDIA has an excellent track record in providing long-term driver support and versatile software suite (e.g., GeForce Experience, NVIDIA Broadcast, RTX Voice).
Features like real-time ray tracing, deep learning super sampling, and G-Sync is what makes NVIDIA unique. The only downside is the hefty price tag they put on the mid-range and high-end graphics cards.
On the other hand, AMD Radeon is more focused on delivering value for money GPUs for the masses. However, driver support is quirky, and the software suite isn't as attractive as NVIDIA's offerings. Still, if you are a casual gamer, the shortcomings of Radeon cards won't bother you much.
Your purchase decision ultimately depends on your budget, as well as the current system that you have. The processor and memory in your PC also have a significant impact on the overall gaming performance.
There's no point in pairing a powerful GPU with a mediocre CPU and slow memory, as it will result in a system bottleneck. In simple words, it means the graphics card won't be able to reach its full potential.
Verdict: Is AMD Radeon R7 Graphics Good for Gaming?
In case you are planning to upgrade an old system, a Radeon R7 series graphics card should be fine as long as you don't overspend on a used GPU. On the other side of the spectrum, there are considerably better options available in the $100-150 price point.
If you look hard enough, you should be able to find good deals on Radeon RX 400/500 series or NVIDIA 700/900/10/16 series cards. When building a new system, you could consider saving up some money to get one of the latest AMD or NVIDIA graphics cards instead.
To learn more about a particular graphics card and how it performs in a variety of games, you can always look up benchmarks on YouTube.