What Is The Best USB Stick Size for TV Recording? In this article, we will explain everything you need to know about USB sticks for tv recordings such as the best size of USB, USB version, and more. Continue reading this guide for more info.
Smart TVs surely do live up to their name. They offer so many features and enable access to internet streaming apps, making the use of external media players and set-top boxes pretty much redundant.
Popular smart TV operating systems, such as Android TV, WebOS, and Tizen OS, are generally bold about their capabilities. But for some reason, television makers deliberately choose not to highlight one of the basic yet most essential features of their TVs, which now has gotten buried to a point where consumers don't even know it exists.
The underrated feature we are talking about is DVR, which allows you to record, pause, and rewind live TV channels. If you have ever wondered why your TV remote has a "Record" button and extra playback controls, this is exactly what it's for.
The feature isn't heavily advertised because most smart TVs don't include enough onboard storage to save recordings. Instead, the feature is accessible only when an external storage device is connected via one of the TV's high-speed USB ports.
If you are looking for a portable USB sticks to unlock your TV's DVR functions but confused about the storage capacity and other various specifications, consider following this guide until the end. We will also walk you through a few of the best USB sticks for tv recording.
What's the Recommended Size of USB Stick for TV Recording?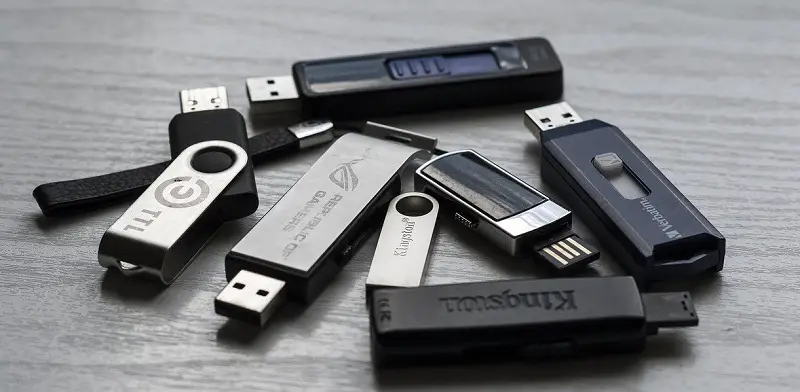 Portable, high-density hard disk drives are generally the best options for DVR on televisions. However, they are not as compact as USB thumb drives, and some of the portable HDDs need additional power to run. Additionally, the minimum storage capacity for portable hard drives is 500 GB in the current market, costing you over £50 for a decent option.
Chances are you won't even utilize that much storage space when recording content, making your extra investment basically of no use. If you aren't looking to record 100+ hours of programming, we recommend purchasing a 128 GB USB stick instead.
A 128 GB flash drive has 117-120 GB of usable storage space. HD (720p) channel recordings usually occupy about 6 GB per hour. In that case, you get to record up to 20 hours of programming, which seems more than enough. When it comes to SD channels, you can expect significantly more recording time than HD broadcasts.
For unlocking DVR on your television, we recommend buying one of the following USB sticks:
Best USB Stick for TV Recording (Review)
1. SanDisk Ultra Flair 128 GB
SanDisk is a subsidiary brand of Western Digital, one of the industry leaders in data storage products. Its 128GB Ultra Flair flash drive is also a best-seller on Amazon UK, with over 80% 5-star positive reviews.
It's a USB 3.0 drive with a read speed of up to 150 MB/s, with write speeds of up to 60 MB/s. There's nothing special about the flash drive other than support for secure file encryption and 128-bit AES password protection, which requires users to install the SanDisk SecureAccess software on a PC.
The SanDisk Ultra Flair is small and has a metal casing, sharing almost the same dimensions as the USB-A connector itself. The 128 GB version costs £16, and it comes with a 5-year limited warranty.
2. Kingston DataTraveler 100G3 128 GB
Kingston is a popular flash memory manufacturer, delivering quality data storage and computer-related memory products for years now. The 128 GB Kingston DataTraveler 100G3 doesn't look as elegant as the SanDisk Ultra Flair, but its sliding cap design and plastic body make it more durable.
The USB 3.0 flash drive has sequential read speeds of up to 130 MB/s and write speeds of up to 50 MB/s, which is suitable for continuous TV recording. It's also backward-compatible with USB 2.0 ports.
Kingston DataTraveler 100G3 costs £14 on Amazon UK. The flash drive has over 78% 5-stars ratings, and it often goes on sale for less than ten quids! You also get a 5-year warranty with free technical support.
Does the USB Version Matter?
Newer TVs come with multiple USB ports, but they are labeled differently. For instance, you probably have noticed that one or two USB ports on your television are colored teal blue, while the remaining ones are colored white or black. The blue color signifies that the port supports USB 3.0 devices, while white and black indicate USB 1.0 and 2.0, respectively.
USB versions are backward compatible, meaning a USB 3.0 device will work when plugged into a USB 2.0 port. However, the older interface can't saturate the high-bandwidth requirement of USB 3.0 devices. In simple words, plugging a USB 3.0 flash drive into a USB 2.0 port will result in significantly worse read/write speeds.
On most TV models with recording functionality, the USB 3.0 port is strictly recommended for connecting external storage devices due to the high-bandwidth requirement. When you connect your USB stick to the TV and configure the recording option, it should run a storage speed test and tell you whether the drive is suitable for the job or not.
Please refrain from buying USB 2.0 flash drives, as there's virtually no price difference between them and their USB 3.0 counterparts.
Can you watch TV Recording on PC?
Unfortunately, famous TV makers like Sony, LG, and Samsung save TV recordings in proprietary formats. If you connect the same USB stick to a PC that you used to store the recordings, you should be able to see the files. However, they will fail to playback even on a media player like VLC.
This is done to prevent unauthorized copies of protected content from being sold on the market or uploaded on public file sharing websites. Having said that, some TV manufacturers do allow users to save recordings in standard playable formats.
Check – Best DVD Player Recorder With Hard Drive And Freeview
To Conclude
We hope this guide has helped you purchase a USB stick for TV recording. If you have any other questions regarding this topic, refer to the following FAQs. You can also leave your queries in the comments section below.
Frequently Asked Questions
1. Should I get a microSD card instead and use an adapter for TV recording?
You shouldn't do that simply because of the technical differences between microSD cards and USB flash sticks. They have significantly worse sequential read/write speeds and slightly more expensive than the flash storage drives. Thus, microSD cards are not recommended for TV recording.
2. Will continuous TV recording decrease my flash drive's lifespan?
Flash drives don't have mechanical components inside, so they survive longer than hard disk drives. The flash chips inside do degrade over a long period, but it won't show any signs of degradation in just a few months of continuous usage. Such portable storage devices are designed with endurance in mind.
3. Found a 2 TB USB stick for less than £20. Should I purchase it?
If you find 2 TB flash drives selling at surprisingly lower prices, avoid them. Real flash drives with such a higher storage capacity cost a fortune. It's a well-known scam, so immediately report the listings and the seller if possible. Watch this video from Atomic Shrimp on YT to learn more about it.