The following step by step tutorial will show you how to Chromecast BT Sport. BT Sport is quite a popular pay-TV sports channel in the United Kingdom. Alongside BT TV, you can watch BT Sport on Sky and Virgin Media as well.
It also has a massive viewer base in Ireland. In the UK alone, BT Sport attracted over 650,000 viewers across all its channels during a high-profile Bundesliga match.
BT Sport is known for its extensive Premier League coverage, with television and streaming rights to 58 matches every season. It's also home to the UEFA Champions League and Europa League, Bundesliga, National League, Ligue 1, FA Cup, FA Trophy, FA Community Shield, and many more football events.
In case you are wondering, BT Sport also covers UFC fights, WWE, as well as rugby games from the Premiership Rugby Cup and European Rugby Challenge Cup. Besides, you can watch every home cricket match from Australia, along with Major League Baseball and American college sports on BT Sport channels.
If you want to cast BT Sport channels on Chromecast, then all you need is a BT Sport subscription on BT TV or Sky. You can follow this guide to learn more about watching BT Sport on Chromecast.
How to Chromecast BT Sport with the BT Sport App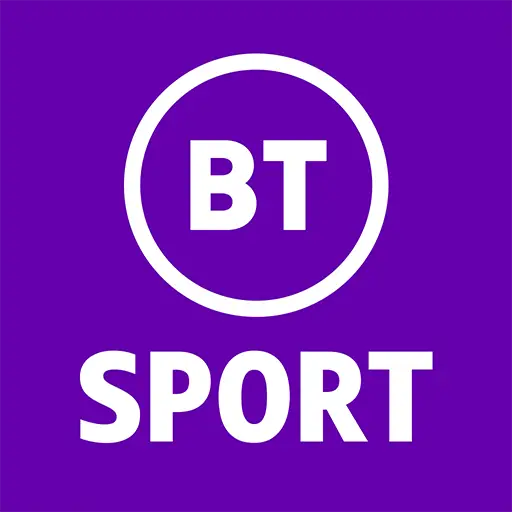 The BT Sport app on Android and iOS officially supports Chromecast devices. Based on your subscription, you can watch BT Sport over Chromecast in 4K HDR, assuming that you also have a Chromecast Ultra and an Ultra HD TV to go with.
You can cast BT Sport 1, BT Sport 2, BT Sport 3, ESPN on BT Sport, and BoxNation channels live on your Chromecast via the BT Sport app. In addition, you can stream catch-ups of BT Sport programs on-demand, as well as highlights, replays, and interviews from your favorite sports events.
As long as you have the BT Sport channels included in your BT TV subscription, you can stream them online on your smartphone or tablet. However, if you want to watch BT Sport on Chromecast or other popular media streaming players, you will have to pay £5 extra on top of your existing plan for the BT TV App Extra add-on.
To add the BT TV App Extra add-on to your BT TV subscription, you will have to either contact the BT customer helpline or go to bt.com/tv/appextra for upgrading your package with the add-on.
How to Install and log in to the BT Sport App
To install the BT Sport app on Android, you can follow the steps below.
First, go to the Play Store from the app drawer.
Next, tap the search bar above and type in "BT Sport" using the on-screen keyboard.
Tap the BT Sport app in the following results.
After that, click Install and wait for BT Sport to get installed on your Android device.
If you have an iPhone/iPad, then the installation process goes as follows:
Open up the App Store from the iOS / iPadOS Home Screen.
Now search for "BT Sport" from the respective Search
Tap The BT Sport app from the list of results, then click Get. You might be prompted to enter your passcode or verify your identity using Touch ID or Face ID.
Once you install the BT Sport app, launch it on your Android or iOS device. It will prompt you to log in on the welcome page. Simply enter your BT ID and password in their respective fields and tap the Log In option. If the login is successful, you should see the main screen of the BT Sport app.
Check – Watch IPTV on Smart TV
How to Cast BT Sport Channels on Chromecast
Now that you have the BT Sport app on your Android/iOS device, you can proceed to cast BT Sport channels streams on Chromecast. The following steps will guide you through the process:
First, make sure that your Android/iOS device and Chromecast is connected to the same Wi-Fi network. Also, change the HDMI source on your TV to the Chromecast device.
Now launch the BT Sport You should see the Cast (TV with three waves) icon on the top-right corner of the app. Simply tap the option.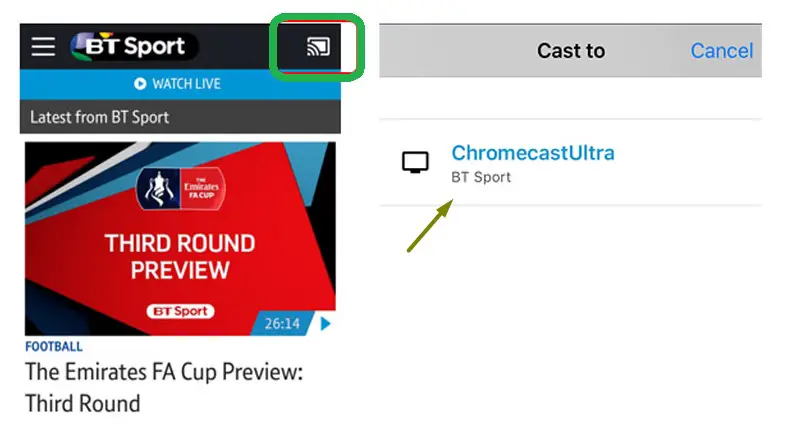 Next, select your Chromecast device from the following pop-up menu. It should then begin establishing a connection to the Chromecast.
Once connected, check if the Cast icon has turned white. It indicates whether you are actually connected to the Chromecast or not. You can now select a BT Sport channel or on-demand content from the BT Sport app, and it should start playing back on the Chromecast device.
The Cast icon also appears when you stream BT Sport on your smartphone or tablet. You can tap it above the stream player to cast the stream instantly on your big screen over Chromecast.
While you are streaming on Chromecast, you can use your phone/tablet to control the stream playback, such as play, pause, forward, or rewind 30 seconds. You will also get the option to adjust the volume. Note that forward and rewind works only when you are watching an on-demand program from the BT Sport app.
To stop casting, you can tap the white Cast icon and select Stop Casting or Disconnect.
Watch BT Sport on Android TV Without Chromecast
If you have an Android TV with Chromecast built-in, then you won't necessarily have to use its casting feature to watch BT Sport. BT Group has recently made its BT Sport app available for Android TV, which you can install from the Play Store on your TV as well.
Once you get BT Sport installed on your Android TV, all you have to do is log in to the app with your BT ID. You can then use your TV remote to navigate through the BT Sport app interface and playback live BT Sport channels or on-demand content.
However, you will still have to pay for the BT TV App Extra add-on over your existing BT TV subscription.
Related
Final Words
This guide has shown you the way to watch BT Sport on Chromecast. It's worth mentioning that you can watch BT Sport on up to two supported devices simultaneously per BT ID.
Also, you will need a minimum internet bandwidth of 15 Mbps to stream in 1080p Full HD. If you want to stream BT Sport in 4K HDR, then you will at least need a 25 Mbps (or higher) internet connection for an optimal experience.
In case you notice a significant drop in stream quality, make sure that your Chromecast is receiving strong Wi-Fi signals.