HDR10 Vs HDR400: What are the Difference and which is better? We will talk about this in detail in this article. HDR is a must-try for those who are looking for the best home theater experience. It stands for "High Dynamic Range," meaning a supported display can output deeper blacks and brighter whites on a scene-by-scene basis.
When playing back HDR content on a compatible TV, the color and contrast ratio is also significantly better than what you can get from SDR content on a standard display.
If you are in the market for a new HDR-compatible television or monitor, chances are you have stumbled upon several different HDR labels on the product pages, such as HDR10, HDR10+, HDR 400, HDR 1000, etc. After all, HDR is a mainstream display standard with a lot of variables in between.
Now, many of you probably are quite confused about what the labels exactly signify, which is why we have prepared this guide to show you the differences between two of the most used marketing terms for displays: HDR 10 and HDR 400.
As we unfold and explain them in detail, we will also give you a quick rundown on the other HDR standards so that you can choose the best TV or monitor.
HDR10 vs HDR400: What are the Differences?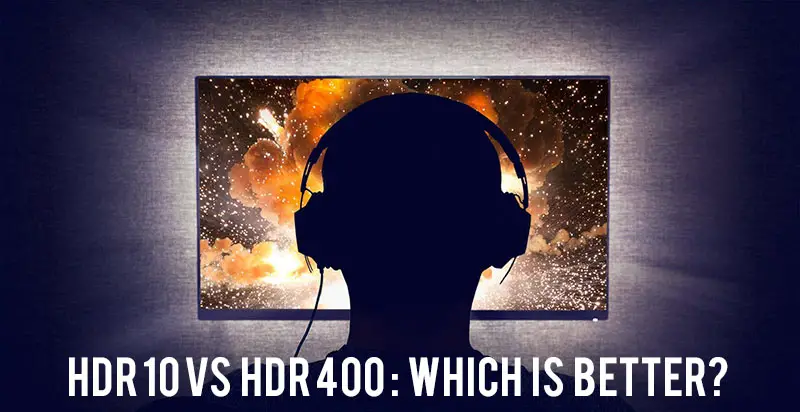 HDR10 is an open, royalty-free standard supported by a vast range of display manufacturers like Sony, Samsung, LG, Sharp, Vizio, etc. If a TV or monitor supports HDR 10, it means the display is capable of playing back HDR-mastered content with 10-bit color and Rec.2020 wide-gamut color space.
HDR10+ is an improved version of HDR10, which can adjust the brightness dynamically on a frame-by-frame basis.
HDR 400 is an entirely different story. If a TV or monitor comes with HDR400 certification, it means the display can achieve a minimum peak luminance (brightness in simple words) of 400 cd/m2 or nits. The marketing term derives from DisplayHDR 400, which is a part of a multi-tiered open standard certified by the VESA (Video Electronics Standards Association).
To put it simply, a three or four-digit number next to the "HDR" or "DisplayHDR" acronym indicates the peak brightness level (nits) of a certified display. However, they also dictate contrast ratio, bit depth, color space, and other advanced specifications.
Almost every HDR 400-certified display supports the HDR10 profile, yet some of them don't necessarily have a 10-bit display. Considering HDR 400-certified TVs and monitors are mostly found in the entry-level price segment, it isn't much of a surprise either.
Most AV enthusiasts consider HDR400 to be the bare minimum standard for HDR playback due to the lackluster brightness. If you are looking for a decent HDR experience when watching movies or playing games, make sure to pick up a TV or monitor that at least has an "HDR 600" or "DisplayHDR 600" certification.
Here's a list of all the HDR standards and their specifications:
Min peak brightness

(nits)

Color range
Dimming technology
Max black level brightness

(nits)

DisplayHDR 400
400
sRGB
Screen-level
0.4
DisplayHDR 500
500
WCG
Zone-level
0.1
DisplayHDR 600
600
WCG
Zone-level
0.1
DisplayHDR 1000
1000
WCG
Zone-level
0.05
DisplayHDR 1400
1400
WCG
Zone-level
0.02
*WCG = Wide Color Gamut
It's worth mentioning that only higher-end TVs and monitors receive the DisplayHDR 1000 (and beyond) certification, so they can be quite heavy on your wallet. If you are on a limited budget, consider getting a better SDR display instead of the one that provides a mediocre HDR experience.
Furthermore, note that not all "HDR xxx" television/monitor directly refer to meet the "DisplayHDR xxx" certification requirements. It's a pseudo-term that display manufacturers tend to use when VESA doesn't give the particular model approval of the real certification.
You can check out this list of certified DisplayHDR products from the official website.
Can you Game on an HDR Display?
It's no secret that HDR displays drastically improve your movie-watching experience. However, it also brings a new layer of visual fidelity to games that support it.
The benefits of HDR in games are noticeable in darker environments, allowing you to identify enemies and objects quicker among shadows. It also improves daylight scenarios, where sun rays and other light sources are significantly brighter than the rest of the image.
HDR makes trees, terrains, and other objects look more lifelike, with accurate color reproduction and deeper saturation.
Remember that your HDR-certified TV or monitor won't show you an HDR image unless your source device supports it. If you have a Windows 10 PC with an NVIDIA Geforce GTX 1000 series or AMD Radeon 400 series (or newer) graphics card, you will have to enable HDR manually from the settings.
Console players at least need a last-gen PS4/PS4 Pro or Xbox One X to play games in HDR. And obviously, the current-gen PlayStation 5 and Xbox Series X/S does support the HDR10 standard. Plus, HDR is enabled automatically when the console detects your compatible display.
Note that not every game support HDR, so you might end up with a dull and washed-out image. If the title does support HDR, you might have to toggle the feature manually from the game settings.
This only applies to PC gamers since Microsoft still hasn't figured out HDR implementation on Windows 10. Thankfully, it's not a problem on consoles, as they can automatically switch between SDR and HDR video signals.
In case you don't see the option to toggle HDR on your PC and console, make sure to enable the feature from your supported TV or monitor's built-in OSD (On Screen Display) settings menu first.
Are there any Problems with Using HDR?
Apart from the compatibility factors, there aren't any major problems with using HDR. The only thing you might run into is oversaturated colors with unappealing black and white levels when watching videos or playing movies in HDR.
Certain things can be fixed from the built-in display settings menu, such as the brightness/luminance level, contrast, and color saturation. When you are watching movies and shows, make sure to select the "Movie" or "Cinema" preset.
During your gaming sessions, choose the "Game/Graphics" preset or enable "Game Mode" from the display settings for the best experience. It disables all the post-processing effects to decrease the latency.
The overall HDR effect in a movie/show or game boils down to the implementation. Some content looks better in HDR, while others not so much. Enabling it in a game can also add extra input lag and impact the average framerates, which heavily affects the responsiveness and smoothness of the gameplay.
Verdict – HDR 10 Vs HDR 400
We hope this informational guide has helped you understand the differences between HDR10 media standard and HDR 400 certification. Besides pointing out the apparent dissimilarities, we have also discussed the different DisplayHDR standards in detail and answered some of your burning questions related to HDR.
Bear in mind that regular content on an HDR-certified display will be shown in SDR as usual. To take full advantage of your TV or monitor's HDR capabilities, play a movie or show from a 4K UHD Blu-ray disc or streaming services that support the feature (e.g., Netflix, Prime Video, Disney+, HBO Max). Netflix and Prime Video currently have the biggest collection of content mastered in HDR 10 and HDR10+.