In this article, we will show you How to Watch Movies From Phone to TV Without HDMI cord. HDMI is currently the industry-standard AV interface for media devices. You can connect Blu-ray players, game consoles, and internet-enabled media streaming devices to a TV over HDMI to get video and audio output without extra connectors.
Many of you probably are aware that you can use a USB/Lightning to HDMI adapter to mirror your smartphone or tablet screen to an external display. But what if your TV doesn't have an HDMI port? Are there any other ways to watch movies on TV from a mobile device?
If you own a TV that's more than a decade old at this point, you would be glad to know that there are still a few options to watch movies from phone to TV without HDMI. We have prepared this guide to help you find out just the correct solution.
For those who have a TV with HDMI ports but don't want to use an adapter to watch movies from the phone, we also have included wireless alternatives in a later section below.
How to Connect Phone to TV without HDMI Cord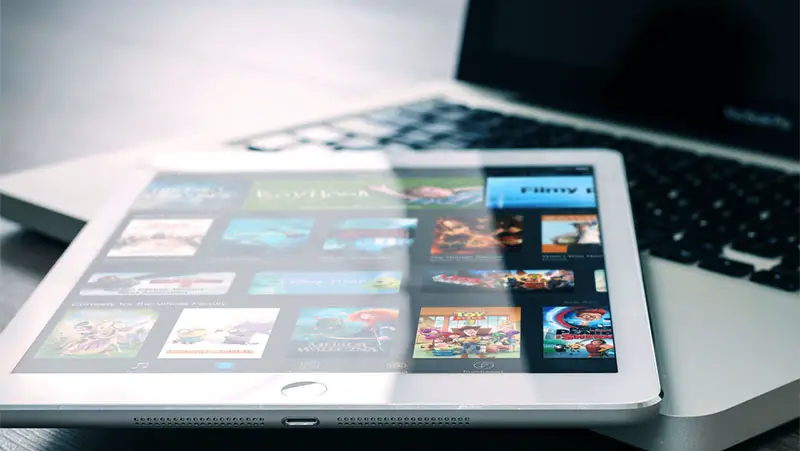 Whether your TV doesn't include an HDMI port, or you are in search of a wireless solution, there are adapters and smart streaming devices you can use to connect your phone or tablet to the TV and get video output. Let's start with the adapters first.
USB to VGA
Even If there's no HDMI port on your old TV, it should definitely have a VGA port. In that case, you can use a USB to VGA adapter to connect your phone or tablet to the TV without HDMI. However, make sure to strictly avoid the cheaper options that don't come with a power adapter. In most cases, they won't work and show a blank screen.
Note that Android devices with a MicroUSB (non-reversible) port most likely won't provide any video output. If your phone comes has a USB-C (reversible) port, a USB-C to VGA adapter should work out of the box.
Alternatively, you can daisy-chain a MicroUSB/USB-C to HDMI adapter with an HDMI to VGA converter for proper support. Bear in mind that it all comes down to the software and the adapters you decide to purchase.
iPhone and older-gen iPad users will need to buy Apple's official Lightning Digital AV Adapter and daisy-chain it with an HDMI to VGA converter for video output.
USB to HDMI to SCART
You can get your Android phone or tablet's screen mirrored on your old TV over the SCART interface, as long as you buy proper adapters with the most positive reviews.
It's worth mentioning that USB to SCART adapters don't exist (for obvious reasons), but you technically can combine a MicroUSB/USB-C to HDMI adapter with an HDMI to SCART converter to get an output. Such adapters come with their own processing hardware and a power adapter, so the image quality will differ depending on what you buy.
We can't even say for certain whether the following combination of adapters will even work with the device you use. However, most Samsung phones or devices with native desktop mode should work just fine.
If you have an iPhone, you will have to connect the Lightning digital AV adapter to an HDMI to SCART converter, which then plugs into the SCART port of your TV.
USB to HDMI to RCA
This might not work at all, but you can possibly watch movies from your phone to your TV over the RCA AV interface. You will need a USB (male) to HDMI (female) adapter and daisy-chain it with an HDMI (female) to RCA (female) converter, which then goes into the RCA ports of the TV. As you can guess, it involves a lot of cables.
It also means there are more points of failure in the following configuration. Hence, proceed at your own discretion before spending on all the required adapters and cables.
Wireless Display Receivers
If your TV does have an HDMI port, but you aren't fond of a wired solution, you can use a wireless display receiver instead. You will find affordable options on Amazon that support Miracast, DLNA, and AirPlay.
Miracast works with almost every Android phone or tablet with 5.0 Lollipop or above. Since it works over a local Wi-Fi connection, it doesn't even require you to go online.
Once you plug the receiver into your TV's HDMI port and power it on, look out for Wireless Display or Screen Mirroring option on your phone or tablet's settings menu. You should be able to select the receiver from the following list of nearby devices.
If everything goes correctly, you will see your phone or tablet's feed mirrored to your TV after a few seconds. After that, you can play and watch your favorites movies on the big screen. The audio should work out of the box.
In case your Android device doesn't have native Miracast support, you can install the LocalCast or Web Video Cast app from the Play Store and connect to the wireless receiver over DLNA to watch movies. The following apps are straightforward to use.
Assuming the receiver you decide to buy turns out to be AirPlay-compatible, look out for the Screen Mirroring option in the Control Center if you have an iPhone or iPad.
Chromecast
Chromecast dongles add the 'Cast' functionality on ordinary television sets, which works with hundreds of popular streaming apps and media players. You can grab a Google Chromecast device from either Amazon or a local retailer at an affordable price. All it takes is five minutes to set up the device with a TV.
While it does require an active internet connection to work, the seamless integration with both Android and iOS devices makes the user experience a lot less cumbersome compared to wired solutions. You can cast not only offline media files but also online content on Chromecast via supported apps.
Unlike screen mirroring or Miracast, Chromecast can playback DRM-restricted content from apps like Netflix, BBC iPlayer, Prime Video, Disney+, etc. You can watch your favorite movies and shows in up to 4K quality (only with Chromecast Ultra) as long as you have an Ultra HD TV and a high-speed internet connection.
To cast a video from your phone/tablet to your Chromecast-connected TV, launch the supported app and tap the Cast (Square with three waves) button on the player. You can use your device to control the video playback on the TV, which is super useful.
Best Way to Watch Movies from Phone to TV Without HDMI
The following workarounds should help you watch movies from phone to TV without HDMI cord. Adapters offer a reliable connection between the phone and the TV, but it definitely isn't a clutter-free solution. Incompatibility is also a major dealbreaker.
Using a wireless display receiver or Chromecast is possibly the best way to watch videos from a phone/tablet to a TV, only if you have an active internet connection in your house.
Alternatively, you can invest in a smart media streaming player (e.g., Amazon Fire TV, Roku, Android TV, NVIDIA SHIELD) for the best possible movie-watching experience. There's plenty of cheap streaming sticks available on the market.