In this guide, we will show you how to cast Funimation on Chromecast. Spoiler alert: It's easier than you think.
Funimation is famously known for its quality anime dub production since the 90s. Apart from serving popular streaming services as a major content provider, the company also has its own digital catalog of anime series and films. Besides Crunchyroll, Funimation is one of the only providers to offer official Japanese simulcasts.
You can discover and stream more than 600 anime shows on Funimation, with mostly all of them dubbed in English. However, you can also watch the shows with subs only if you are a hardcore sub purist.
Despite having a smaller streaming library compared to Crunchyroll, Funimation offers access to some of the top anime shows, including Fullmetal Alchemist, Attack on Titan, My Hero Academia, Yuri on Ice, Yu Yu Hakusho, Cardcaptor Sakura, Fruits Basket, Dr. STONE, Darwin's Game, Erased, etc. It even has the complete collection of the Dragon Ball franchise.
Since you are here, you probably would like to know whether you can watch Funimation on Chromecast. Fortunately, it's available on a wide range of devices, and it officially supports Google's Chromecast players, as well as other smart devices with Chromecast built-in.
Requirements
Before we jump straight into the process, here are a few things you need to confirm:
First, make sure that your Google Chromecast dongle is powered on and connected to your home Wi-Fi network. If you have an Android TV or set-top box (NVIDIA SHIELD, Mi Box 4K) with Chromecast built-in, it needs to be connected to the internet as well.
On your Android phone or tablet, download and install the official Funimation app from Play Store if you don't have it already.
iPhone/iPad users can get the latest version of the Funimation app from the App Store.
If you plan to cast Funimation from your PC or laptop, we recommend using the latest version of Chrome. You can get it from google.com/chrome.
Your source device (smartphone, tablet, or computer) must be connected to the same network as the Chromecast device.
According to Funimation, a 5 Mb/s internet connection is necessary for streaming in 1080p Full HD without buffering.
Cast Funimation on Chromecast using the Android/iOS App
Funimation offers select anime shows in an ad-supported tier, but you can also pay for the monthly or yearly Premium subscription to access the entire anime library without advertisements.
No matter what you go for, you can watch the shows in up to 1080p on any of your devices. Here's how you can cast an episode from the Funimation Android/iOS app to a Chromecast device:
Provided that your Chromecast is ready to go, start with opening the Funimation app on your Android or iOS device.
You should see the Cast icon (a square with three waves) on the upper-right corner of the app, right next to the Search Tap it and select your supported Chromecast device from the list.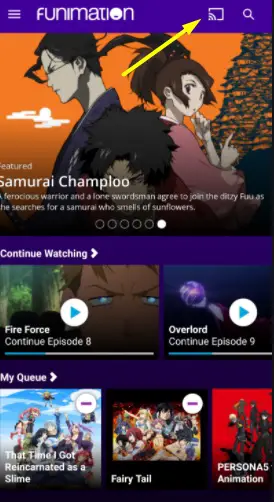 Once you see the Funimation app logo on your big screen, choose the anime show and episode you wish to watch, then tap the Play.
In a matter of a few seconds, the episode should start playing back on your TV over Chromecast.
When you wish to stop casting, all you have to do is tap the Cast icon in the player, followed by the Stop casting option.
Cast Funimation on Chromecast using the Web Version
If you want to cast Funimation content on Chromecast from your Windows/macOS computer, you can rely on the web version. The steps below will show you how to do it using Google Chrome:
Launch a new Chrome window from the desktop and go to funimation.com.
Next, click the LOG IN option above if you have a Funimation account with a Premium subscription. You must enter your account credentials.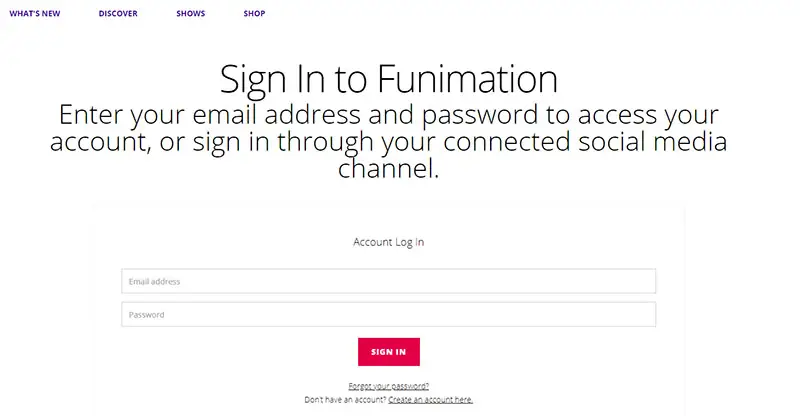 Once you are signed in, search for the show or episode you would like to cast to your screen and play it.
Now hover your mouse cursor over the player and click the Cast.
A pop-up should appear on the top-right side of the Chrome window. From there, select and click your Chromecast-compatible device.
That's it! The content should start playing back on the screen that you have connected your Chromecast player to.
In case you are wondering, the method above works only on Google Chrome. The Cast option doesn't even show up when using the new Microsoft Edge or other Chromium-based browsers.
Alternative Method to Cast Funimation to TV
For some users, the Cast option might not show up in the Funimation web player. If that's the case for you, consider checking out the instructions below to watch Funimation on Chromecast.
Once again, pick up something to watch from the Funimation library.
Pause the stream when it starts playing back, then proceed to click the three-dot kebab menu icon on the right side of Chrome's navigation bar.
After that, select and click Cast in the following drop-down action menu.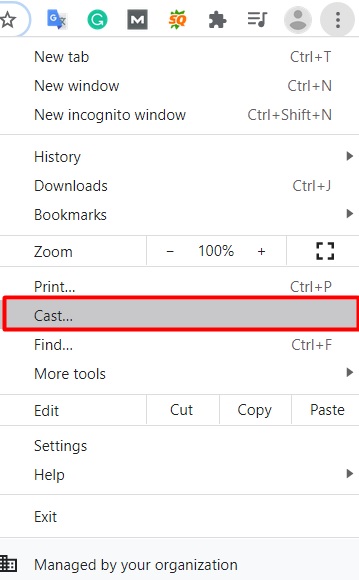 In the pop-up window, click the down-arrow icon next to Sources, and select the Cast tab.
Now click your Chromecast device in the pop-up window. The entire Chrome tab should be mirrored to your Chromecast after a few seconds.
You can now click the play button in the stream player and enjoy watching the anime show or episode you selected earlier. Click the fullscreen icon so that the entire content fits your big screen.
If you want to adjust the stream quality, change the language, toggle on/off subtitles, or enable autoplay, click the cog icon in the player. You can also rewind or skip forward by dragging the player's slider.
For the best possible audio and video quality, make sure that your devices are in closer proximity.
Our Top Chromecast Articles
Finishing Up
If anime is all you watch, Funimation is an excellent service alongside Crunchyroll. It doesn't matter whether you have a subscription or not; you can follow this guide to watch Funimation shows on Chromecast.
Nearly all Chromecast devices are supported, even the 1st-gen models. If you have a Chromecast Ultra, the stream will still be limited to 1080p as it's the maximum stream quality offered by Funimation.